WHO IS VICTOR TIBBETS?
Vic worked at Bill Wilson's custom shop, Wilson Combat, for approximately 17 years, starting in the mid-1980s. Initially he did all of the revolver work there, but because of the press of custom 1911 business, he began working on those too. Vic indicated that for many years his revolver work was mainly on the large wheelguns used for hunting, but eventually this shifted to customizing revolvers used for duty or concealed carry. The crew at Wilson Combat was pretty small then, just four or five 'smiths, and over time his 1911 work came to include the high-end Supergrades.

Vic eventually left Wilson's to open his own business, Tibbets Custom Classics (TCC), in Berryville Arkansas. His reputation as a skilled 1911 pistolsmith quickly got around, and TCC produced a wide variety of custom 1911s ranging from no-frill "fighters" to full-house builds. His old website is down as of this writing; however, several Tibbets 1911s still can be viewed at the following link:
http://www.pt-partners.com/custom/tibbets.htm
There are many talented pistolsmiths capable of producing a thoroughly reliable 1911; however, stylistically speaking, Vic Tibbets has no equal in my opinion. A Tibbets-built 1911 has a different look to it. Lay seven customized blasters across a table and the gun that immediately catches your eye is his. There's a striking aesthetic quality that visually distinguishes it from being "just another" among the custom herd.

THE BUSINESS END OF A DELTA:
Left picture shows the steep "deep dish" crown given to the muzzle of the Bar-Sto barrel; right picture shows the rakish "scallop" on right front side of slide. Both are identifying features of Tibbets custom 1911s.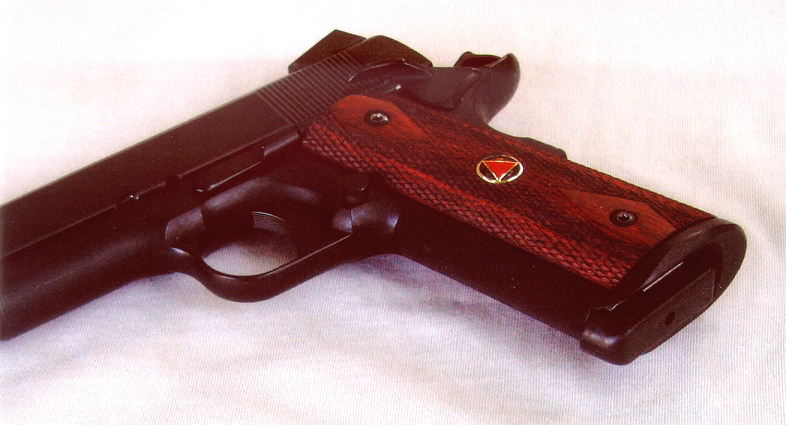 ERGONOMIC TOUCHES:
Shown here is the 30-lpi hand-checkering on the front strap and the area under the trigger guard which Vic cut away and radiused for a higher grip. Both help to control the gun and enhance accuracy and recovery from recoil.
But there's more to the man than just his talent and latent artistic flair. There's his passion for the work. While still at TCC, Vic reworked a .357 magnum S&W 686 revolver for gunwriter Frank James. It's an absolutely beautiful 2.5" snubby. James later reviewed Tibbets' work on this gun in a piece in Custom Combat Handguns #46 (April, 2006). Toward the end, he asked Vic what he wanted to be remembered for as a pistolsmith. Vic replied:


"A perfectionist that puts heart and soul into his work. After all, these are serious tools for serious work. I'm mostly a traditionalist as far as the work goes. I don't rely much on machines but on files and sweat (still handchecker everything). After all, this is what I will leave behind." (Id., p. 65).


Today, Vic is back at Wilson Combat. He left Guncrafters to become Wilson's Custom Shop Manager - both in terms of supervision and doing hands-on work. Vic's tasks include: training the younger 'smiths, overseeing all gun production, resolving quality-control issues and building the high-end Supergrades.

More interesting, perhaps, is that during his TCC years, he worked on a number of Colt Deltas and built other 10mm 1911s from high-quality aftermarket components. This experience put Vic in a special niche from which to contribute to the shop's current 10mm projects, like the 10mm CQBs and Supergrades.

For those who missed the chatter on the internet boards where things 10mm are discussed, Wilson Combat has returned to building 10mm guns. As well, Wilson's high-quality 10mm mags are available again. Supposedly these are 9-rd mags, but thus far I've only gotten eight rounds into mine. However, they've all run 100%, with no malfunctions.

Packaged as "Legendary Magazines," product # 47NX, these 10mm mags come with a low profile .350" base made of hard plastic. It's perfectly sized for CCW use, regardless of whether or not your gun has a magazine well. If, like mine, yours does sport a mag well, then these or similar "bumper pads" are mandatory in order to ensure that the mag gets fully seated during a reload, especially one done hurriedly under stress.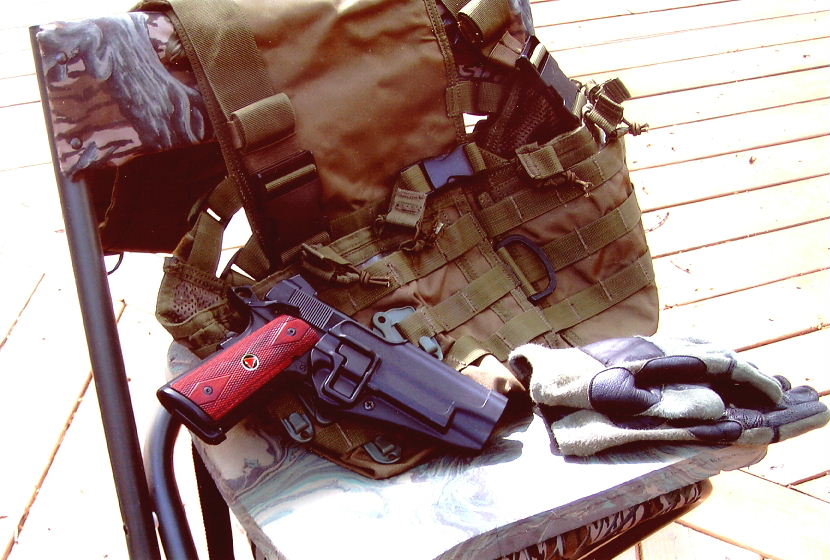 A FIGHTING DELTA:
Hardly a safe queen, it has been my sidearm and go-to "second gun" at several training courses, like those at Tactical Defense Institute in Ohio.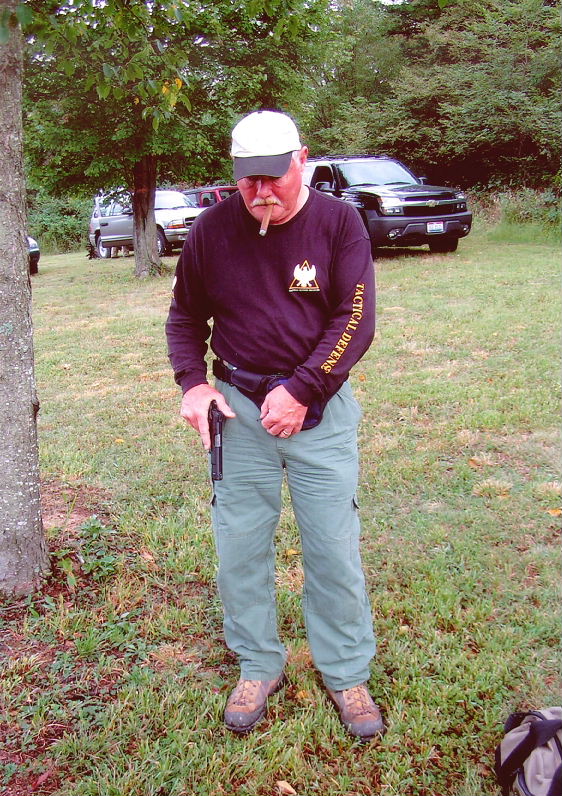 CHECKING IT OUT:
Custom 1911s attract attention. Here, John Benner, TDI's president and chief instructor, runs through a few draw strokes with the Delta to get a feel for Vic's ergonomic work. See:
www.tdiohio.com
Regarding the 10mm cartridge in a 1911-platform, Vic offered some thoughts:


"[At Wilson Combat], we always seem to have 10mms in the works. *** 10mm [1911s] definitely have issues. 1911s as you know were designed around the 5" .45acp, so all other variations are a compromise in one way or another. The length of the 10mm and its high pressure and power are always a challenge in the 1911 design."


Vic indicated a desire to "explore 10mms further and maybe build some special 10mm models." His old TCC shop is still "fully equipped and functional but on 'ice' for now."

Maybe, eventually, Vic Tibbets will return to doing custom work full-time. One can only hope.

agtman