QUALITY EXAMPLES OF 10MM AUTO PLATFORMS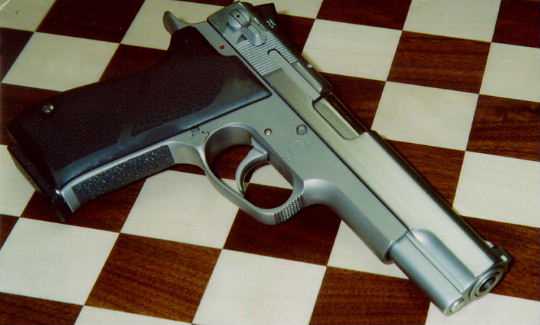 PIC #1
<!>
"Minimalist Custom" S&W 1006:

Completely dehorned and refinished: slide was hard chromed, frame was bead blasted; duty/carry action job; Wolff recoil springs (20lb or 22lb); Hogue rubber grips; Novak's fixed tritium night sights; on the front strap, a strip of precisely cut & neatly applied skateboard tape. All mags have XP Wolff springs. Still looking for that "perfect" shoulder holster to go with my Ray-Bans and pastel dinner jacket.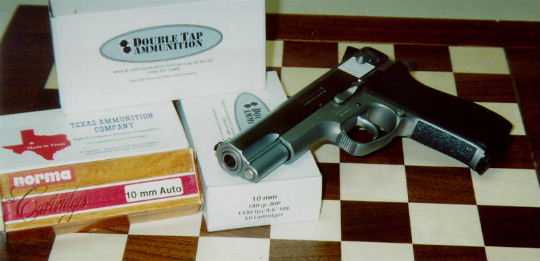 PIC #2
<!>
In the company of heavy-weights.

Another view of S&W 1006, with full-power 10mm ammo from 3 makers: Norma 170gn JHP; Texas Ammo 200gn XTP: Double Tap 180gn GSHP. The 5" barreled 1006 is the big bad Booty-Daddy among 10mm pistols. This one has never failed to feed, fire, extract or eject. It is very accurate, and shot tightly with Double Tap's 165gn 10mm Golden Saber load. If you get a chance at a Smith 1006 or 1026, don't pass it up.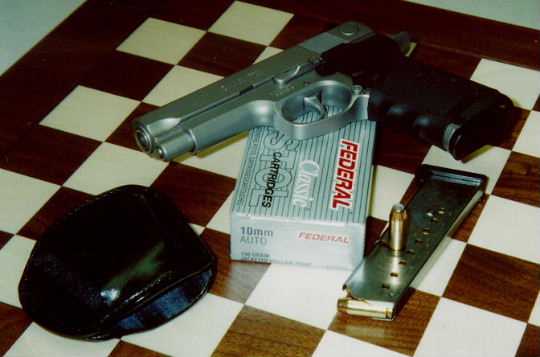 PIC #3
<!>
S&W 1076.

This pistol sees a lot of holster time. Slim packing, with a 4.25" Commander-length barrel and Sig-style decocker, the 1076 still gives 9+1 10mm firepower. A great CCW gun and very accurate. Basically stock, except for duty/carry action job and Wolff springs (20lb or 22lb). All mags have Wolff XP springs. Shown with Federal's 190gn 10mm JHP and a Galco JAK slide. (1076 wears Uncle Mike's tacky rubber "slip-on" grip w/ finger grooves that I was trying out at the time of photo.)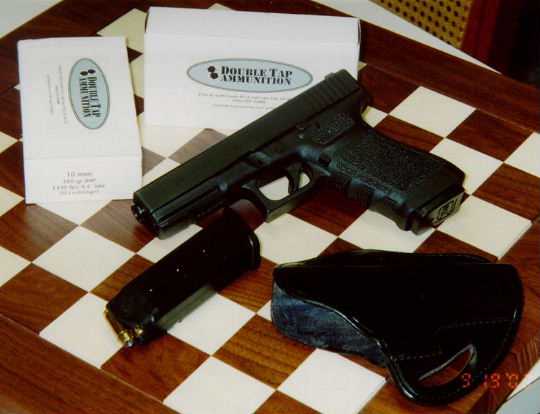 PIC #4
<!>
Glock 20.

Also sees frequent holster time. Basically stock, except for Trijicon fixed night sights, ISMI captive recoil springs (20lb or 22lb, depending on load) and Decal's gritty strips on grips. Shown with Dillon's Master holster and a 15rd mag loaded with Double Tap's 180gn Golden Sabers.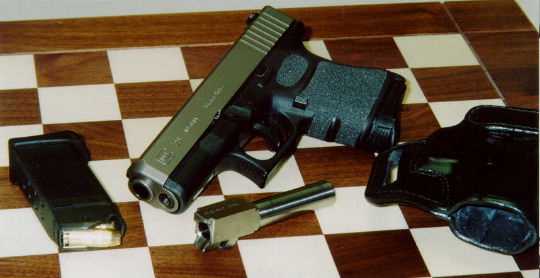 PIC #5
<!>
"Semi-custom" Glock 29.

G29's slide had scratches when acquired, so Robar applied their NP3 metal refinishing to the slide (plus internals) and factory barrel. Later added were: Wolff 21lb recoil spring & steel guide rod unit; Trijicon fixed night sights; Decal's thin but gritty adhesive strips on grips. 10rd mags have Pearce extended finger groove bases. Shown with extra Bar-Sto barrel (hand-fitted), and Dillon's LTD holster used in cooler weather. In hot weather, G29 rides in a Sidearmor IWB.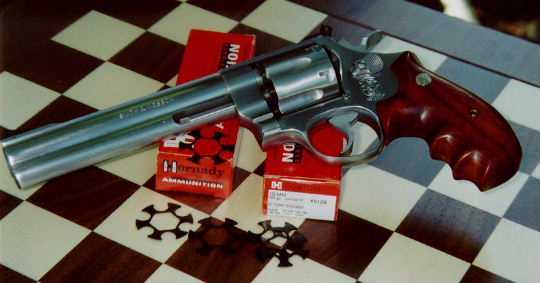 PIC #6
<!>
S&W 610 10mm Revolver.

This is a first generation 610 with 6.5" barrel. Completely stock, including original grips and fluted cylinder. Not shot much, but it's very accurate, especially at distance. Shown with full moon clips and Hornady's 180gn XTP 10mm ammo.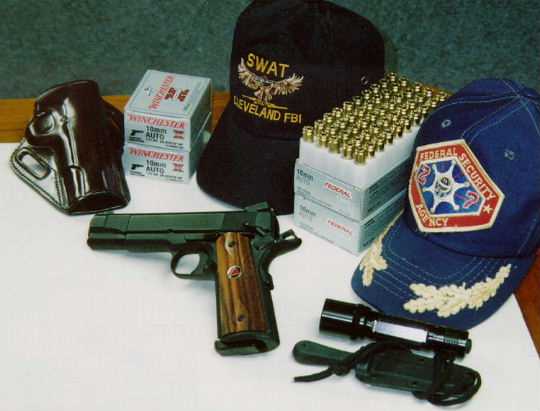 PIC #7
<!>
Tibbets Custom Delta Elite.

See the "Gun Details" page for complete specs. To my knowledge, no federal LEA currently authorizes a 1911 in 10mm Auto. The FBI issues a customized 1911 in 45acp for its SWAT & HRT units, with features virtually identical to those on the Tibbets DE. A 10mm 1911 like this one could certainly perform any task required - from high-risk warrant service to terrorist interdiction.