THE APOTHEOSIS OF THE 10MM DELTA ELITE
BACKGROUND: About four years ago I was more or less seized with the notion of acquiring a 1911-pattern pistol chambered in 10mm Auto, and then having it customized to my specifications. If you're into this cartridge long enough, you'll eventually rationalize the need to shoot it in a 1911, and for me that meant a Colt Delta Elite. I began considering design ideas that would suit my personal needs and tastes, while keeping an eye peeled for a stock DE in excellent-condition or better.

Customized 1911s in 10mm are hardly ubiquitous, but they're not that rare either. You just have to do a little research. I came across an article by Massad Ayoob on his Mark Morris Tactical Elite 10mm, basically a high-end DE with a compensator. Very nice, but at $3,495 very expensive, and I really didn't want a comp-ed gun anyway. Yet, the Morris Delta did exhibit several nice features with quality parts, such as those by STI and Ed Brown, so I noted these things and kept looking. Pictures of a very nicely done Delta, this one a stainless model by Dane Burns, were posted on Pistolsmith.com and elsewhere. Over the years Wayne Novak's shop has produced a number of custom DEs, photos of which can be seen on his site.

Time passed, and a friend loaned me an old copy of Custom Combat Handguns (1998), which reviewed a number of 1911s from various pistolsmiths, all in .45acp. No 10mms, no Deltas. But among the guns shown there were many ideas to consider. The degree of customizing ranged from "full-house" to minimalist. I was particularly impressed with Bill Laughridge's rendering of a Colt M1991A1 to FBI specs for a proposed "Bureau Model." I took notes on his integration of aftermarket parts with other custom details, while continuing to look at 'smiths experienced in setting up 10mms. The internet made this task more productive than sifting through gun mags every month.

FINDING VICTOR TIBBETS: About this time, I came across a blue DE for sale in a local shop. Shot very little, clean and stock. The price was right and it was quickly mine. Shortly after this find, pictures of a Delta customized by Victor Tibbets appeared on-line. His work on this gun was close enough to what I already had in mind, and was so well executed, that I contacted him immediately to see if he might be interested in my project. Checking his website also gave me a better idea of the range of his work and esthetic style.
Vic was happy to do the work. Aside from being a very talented Master Pistolsmith, Vic is one heck of a nice guy. I'm sure I drove him nuts with all my e-mails and detailed questions, but Vic was courteous and prompt in answering them. Last July I shipped him my DE, along with the parts I'd accumulated for the project and about 200rds of 10mm ammo to test fire and sight-in with. Vic suggested a couple of things I'd overlooked and recommended other parts that would ensure problem-free functioning. He returned the gun to me in mid-March. The 9-month wait was tough, but that's an extremely short turn-around for a 'smith of Vic's abilities. I was very pleased with the transformation. The Delta I got back matches exactly the concept I had for a 10mm 1911 personalized to my needs. The utilitarian in me really didn't want all the bells and whistles of a full-house IPSC-style race gun, desiring instead the sturdier and more muted features useful for CCW and, if needed, law enforcement applications. Not surprisingly, as the pictures reveal, the Tibbets DE strongly resembles the SA 1911 currently used by the Bureau's SWAT and HRT units.

A few stylistic touches, however, distinguish this Delta from the custom herd. First is Vic's trademark crowning of the barrel in a deep concave fashion. His signature "scallops" were added to the front sides of the slide, giving the gun a rakish look. He cut a flat on the top of the slide, running between the sight dovetails, and then serrated this flat. The finish Vic used has to be seen to be appreciated. Technically, it's parkerized, followed by a treatment of semi-gloss black gunkote. But to call it nonreflective really understates the final appearance. I've seen a lot of "matte" finishes in my time, but none were more light-absorbing than this one. Studied in different lighting, it reminds you of the radar-defeating finish the military uses on its stealth fighters. If there's such a thing as "tactical" black, this has to be it.

Vic was extremely thorough in his work. This shows in the Delta's ergonomics. Frankly, it's the most "grip-able" 1911 I've ever shot. For a higher purchase, Vic first relieved metal at the base of the trigger guard where it joins the frame, then carefully radiused that whole area. Next, he fitted and perfectly blended an Ed Brown BT grip safety. The metal relief at the frame/trigger guard juncture, combined with the upward sweep of the BT safety, puts the hand closer to the bore-grip axis for better control. Third, beginning just under the relieved area, Vic hand-checkered the entire front strap 30-lpi. He mated to the frame an S&A magazine well with integral flat MSH, which was already pre-checkered 20-lpi. Between the checkering fore and aft and the higher hold, recoil control is outstanding. Even with the hottest loads, the pistol stayed put in my hand. No torquing, no slipping around. Devoid of sharp edges, it exudes the smoothness of a professional piece. The 5" Delta points well, and feels lighter in handling than my shorter S&W 1076.
SPECIFICATIONS
<!>
Bar-Sto 5" Match Grade stainless steel barrel, oversized, w/ bushing, link & pin; hand-fitted, throated, polished and crowned, w/ full reliability package;
<!>
Tighten slide to frame fit;
<!>
Ejection port lowered and flaired;
<!>
Scallops added to slide; top of slide serrated;
<!>
Front strap checkered, 30-lpi; frame relieved at base of trigger guard;
<!>
S&A flat MSH w/ extended mag well, blended w/ frame;
<!>
Ed Brown (EB) hardcore hammer & sear;
<!>
EB tactical ambi safety;
<!>
EB "memory groove" BT grip safety;
<!>
EB match disconnector, extractor & extended ejector;
<!>
EB extended mag release;
<!>
EB hardcore slide stop;
<!>
EB FLGR, w/ Wolff 22lb variable recoil spring; other Wolff springs installed;
<!>
Casull trigger, w/ overtravel stop; set @ 4.5lbs, crisp;
<!>
EGW firing pin stop;
<!>
An EB firing pin was replaced with a titanium f.p. During test-firing Vic encountered primer swipe. The titanium pin worked - no more swipe.
<!>
Full carry melt/dehorning;
<!>
Sights: Front - white dot w/ tritium insert; Rear - Novak "Extreme Duty" adjustable tritium dot sights;
<!>
Finish: parkerized, then final finish w/ semi-gloss black gunkote;
<!>
Stocks: Hogue's Goncalo Alves wood w/ square cut bottom; checkered and Delta medallions installed;
Pictures follow. I'm not Ichiro Nagata, but hey, they're the best I could do with a 35mm. Many thanks to NordicG3K for handling the technical stuff to get this posted. In a short while, I'll complete a Range Report on how the Tibbets Delta shot using a variety of 10mm factory ammo.
agtman

THE PICTURES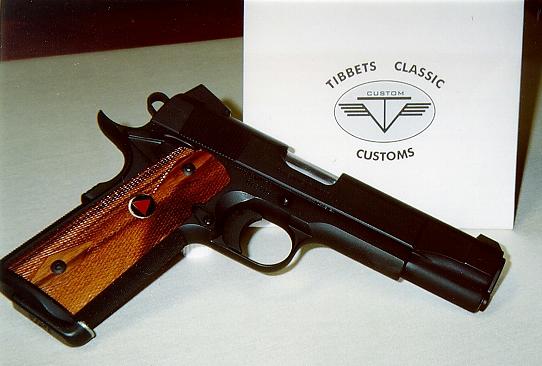 PIC #1
<!>
Custom Delta Elite by Victor Tibbets. 9+1 10mm firepower in an elegant 1911 package. (Mag used is a 9rd CMC with Wilson basepad.)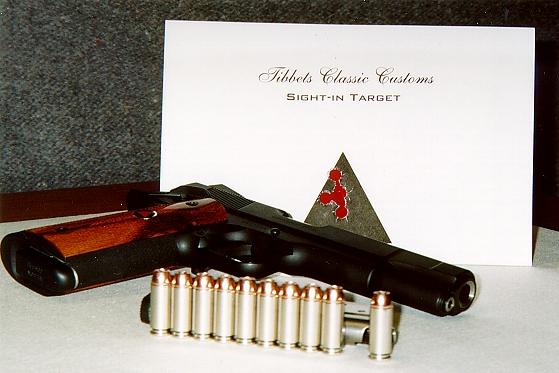 PIC #2
<!>
Vic sent this test target back with the DE. 5-shot group measures just under 1-inch. Ammo used was Georgia Arms 10mm/180gn Gold Dot HPs @ 1150fps. Ammo in foreground is the 180gn GDHPs in nickel cases.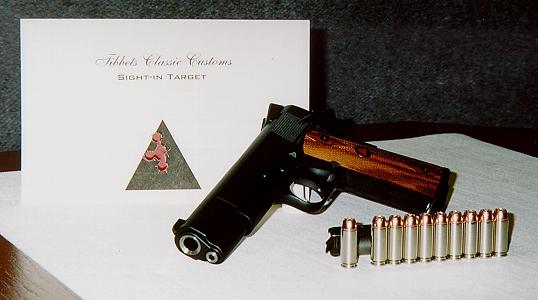 PIC #3
<!>
Tibbets DE & test target - another view. Note the barrel's deep crown.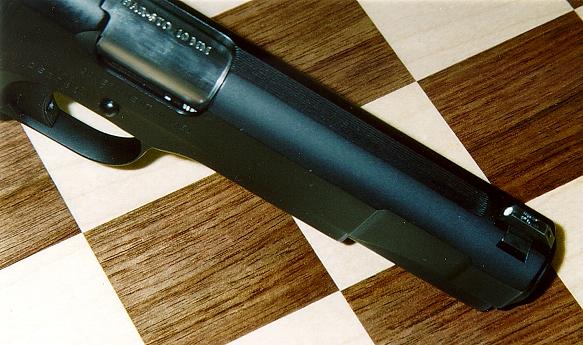 PIC #4
<!>
Top of slide with serrated flat & dovetailed tritium front sight; right side "scallop."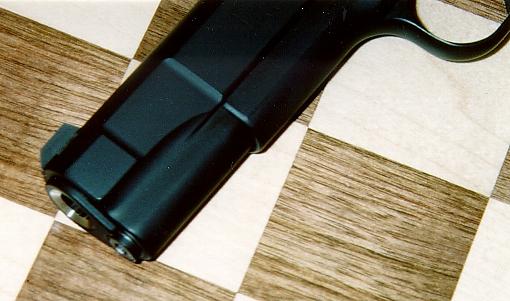 PIC #5
<!>
"Scallop" on left side of slide.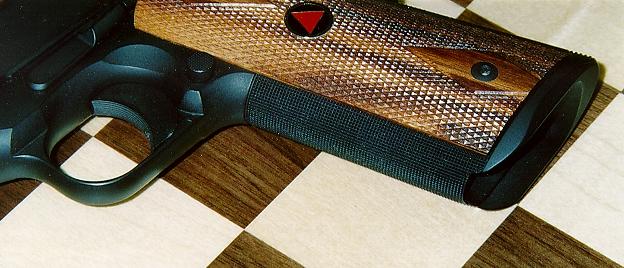 PIC #6
<!>
Front strap area: metal relief under trigger guard; 30-lpi full checkering; perfectly mated S&A mag well.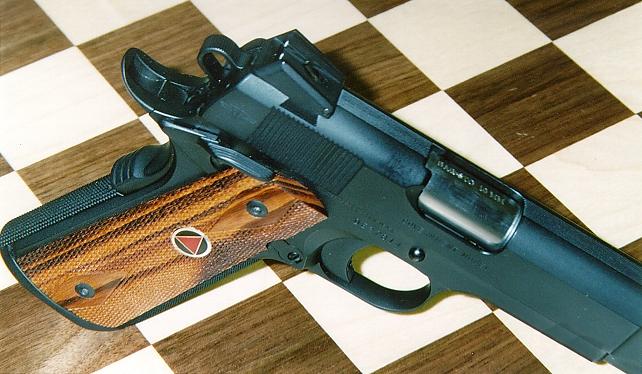 PIC #7
<!>
Rear view: Novak's "Extreme Duty" adj. tritium sight; EB ambi thumb safety & BT grip safety; S&A flat MSH w/ 20-lpi checkering.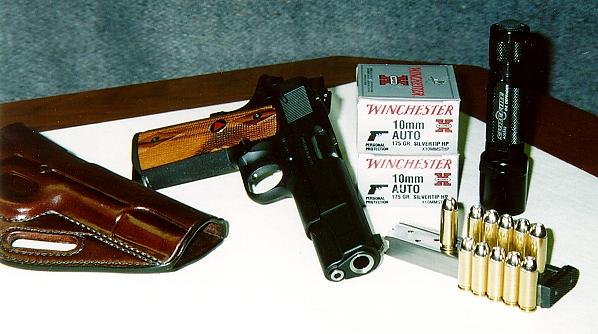 PIC #8
<!>
Range Ready: (l-to-r) Galco's "Concealable" 1911 holster; Tibbets DE; SureFire D2; extra 9-rd CMC mag.