INTRODUCTION
Welcome to my 10mm pistol and 5.56mm tactical carbine site.

I like to write about what interests me, and some of the things that interest me have fueled the activities and experiences for what's been written here.
From the late 1980s on, the 10mm cartridge has been my favorite handgun round.  I've also been shooting some form of long gun since I was quite young.  These have included hunting rifles as well as the service rifles used in DCM-type shooting, like the M1 Garand, M1A and the AR15.
The links to the left take you to separate pages containing different reviews (with pictures) of 10mm-related subjects, covering guns, ammunition and magazines.  Several pertain to my Delta Elite as customized by Master pistolsmith Vic Tibbets.
Two links go to other write-ups on topics relating to the 5.56mm tactical rifle and my SBR, including build specifications, related gear and tactical training.  In more recent years I've taken several training courses with the 16" AR carbine.  This type of "tactical" shooting, along with the relevant techniques and procedures taught, is quite different from the "square range" shooting of service rifle matches.  The tactical rifle review and the article on my SBR evolved from this experience.
The last link goes to my modest collection of 10mm pistols.  It's less a "write-up" than a series of pictures.  It's offered here to give someone new to the cartridge an idea of what's out there - in current production guns (Glock 20 and 29) as well as discontinued models (S&W 10XX-series).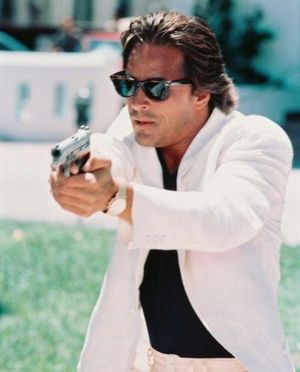 The 10mm AUTO:
It's the combat round of choice for those who are serious about stopping power.  Jaw-dropping, eye-popping performance since 1983.