| | | |
| --- | --- | --- |
| Bruce | Bren Ten Standard Model with .45 Conversion Kit on custom stand. | 02/06/03 |
| NordicG3K | iAi Javelina 7" Hunting Model. | 02/06/03 |
| James Glover | Wyoming Arms 7" Parker & Bren Ten SM | 03/31/03 |
| Brent Chambers | Caspian Custom 10mm | 04/08/03 |
| agtman | Custom Tibbets Colt Delta Elite | 04/12/03 |

February 6, 2003

This picture comes from Bruce and is of his custom Bren stand built specifically for the much sought after Bren Ten Dual Master. Here Bruce uses it to display a Bren Ten Standard Model along with a rare .45 Conversion Kit.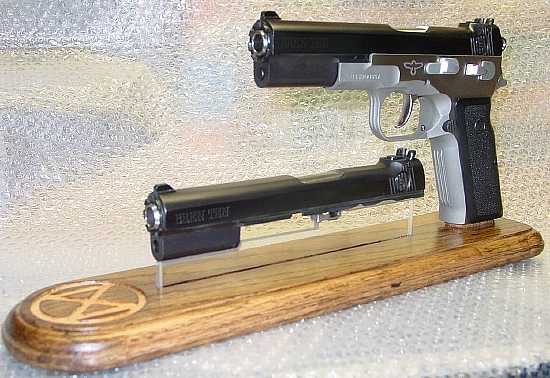 February 6, 2003

Here's a pic of my 7" iAi Javelina Hunting Model. To be perfectly honest the finish work on the gun is somewhat lacking. The long and heavy 7" slide/barrel does an outstanding job of dampening recoil and muzzle flip however and it's a real joy to shoot.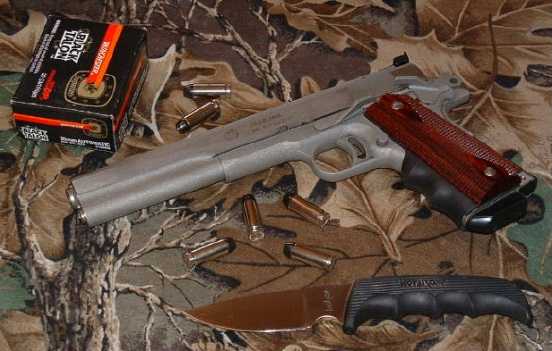 March 31, 2003

James sent in a couple really nice pics. The first is of a rare 7" Wyoming Arms Parker complete with original box. James is well aware that the Parkers don't have the best reputation, but states that this particular gun is an excellent shooter! The second pic is of another really nice Bren Ten Standard Model, also with original box and manual.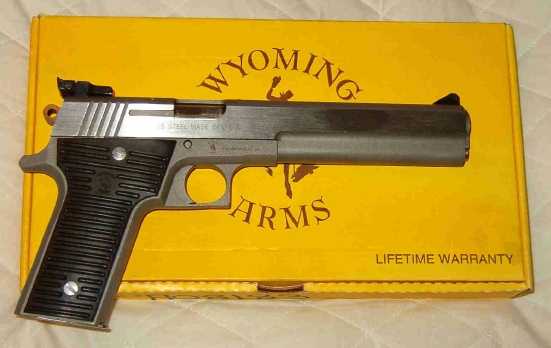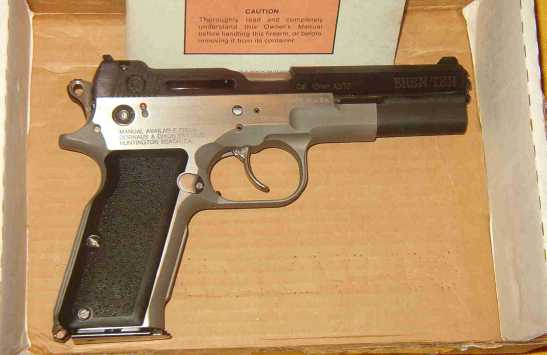 April 8, 2003

Brent Chambers recently picked up his custom Caspian 10mm and was kind enough to share some pics of his baby. Using a forged Caspian frame topped with a Caspian slide Brent added a Kart 10mm barrel, King's barrel bushing, Heinie magwell, Novak rear sight and Novak tritium front sight, Ed Brown safety and extractor and STI sear and disconnector. Added to this is some very nice hand checkering and lettering. And the cherry on top is, of course, the unique serial number! What a package!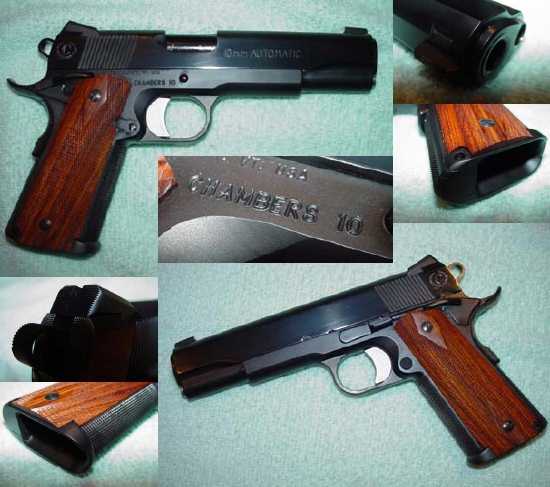 April 12, 2003

Here's another beautiful custom 10mm 1911 Government Model. This one started out life as a standard blued Colt Delta Elite. After four years of research, planning, searching for a good base-gun and acquiring parts, agtman sent the stock DE off to Victor Tibbets so that he could "work his magic" on the gun. What came back is not only beautiful, but a very practical and user friendly custom 1911 10mm Auto!