| | | |
| --- | --- | --- |
| Gabe Galo | Custom STI 1911 with 6" Scheumann bull barrel. | 01/01/04 |
| CompensateThis! | Glock 20C, Glock 29 & accessories. | 02/09/04 |
| G33 & G29 | S&W 1076s, S&W 646 10mm conversion & Olympic Arms 10mm carbine. | 02/09/04 |
| Snub357 | Dan Wesson Pointman Major PM10-S. | 02/10/04 |
| AndABeer | Smith & Wesson 1026 (blackened stainless finish). | 02/11/04 |

January 1, 2004

Gabe sends in this pic of his custom 1911 10mm Auto. Starting with an STI long frame he added a Scheumann 6" barrel and Ed Brown internals. Gabe has taken two wild boars with this gun!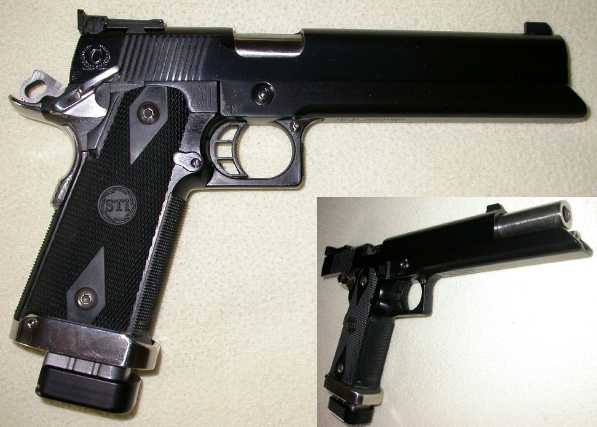 February 9, 2004

CompensateThis! has put together this great pic of his Glock 20C, Glock 29 and accessories. The green frame on that G20C looks absolutely fantastic!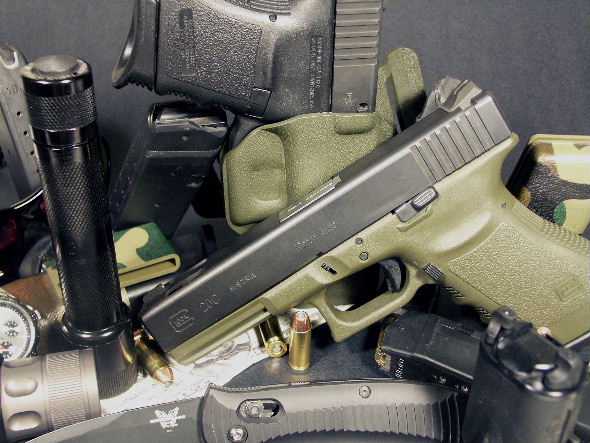 February 9, 2004

This nice pair of S&W 1076s belong to G33. The other Smith & Wesson is actually an S&W 646 .40 S&W L-frame that has been bored out to accept the longer 10mm cartridge (an awesome little package!). The Olympic Arms 10mm carbine belongs to G29.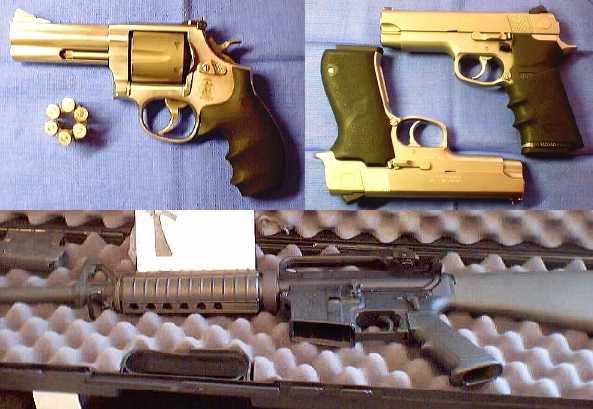 February 10, 2004

This very nice Dan Wesson 10mm belongs to Snub357. It's a stainless Pointman Major and from the looks of it it comes very close to the old Colt Delta Gold Cups for about half the price (if you can even find one these days). I haven't been too hot on the stainless guns these days, but I have to say that this is one beautiful 1911!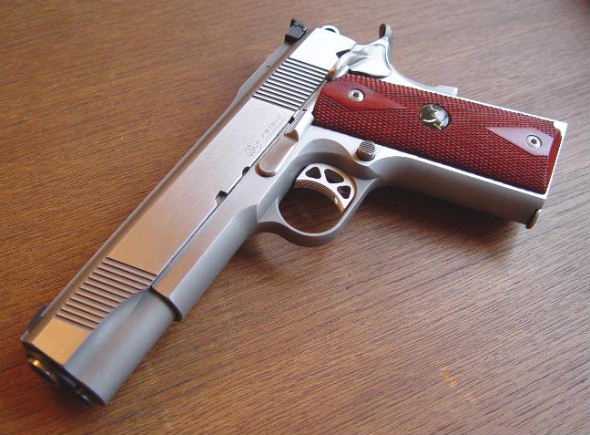 February 11, 2004

This unique Smith & Wesson 1026 comes from AndABeer. What makes it special is the blackened stainless finish. The S&W 10xx series pistols are all well built, good looking guns, but the black finish gives this one a very "business-like" appearance. Notice also that this gun wears factory S&W curved backstrap grips rather than the more common flat backstrap version.