| | | |
| --- | --- | --- |
| MBSL | Custom HK USP 40 10mm Conversion. | 08/09/04 |
| Hahns | Witness Compact, S&W 1076, Glock 20C, Ruger Buckeye, Colt Delta, Colt Double Eagle, iAi Javelina & Thompson 1927A1. | 09/18/04 |
| NordicG3K | 7" LNIB Wyoming Arms Parker. | 09/18/04 |
| ColoradoGlocker | Glock custom 6"G20 longslide. | 03/03/05 |
| Nick | OD green-framed G20 longslide. | 03/20/06 |

August 9, 2004

While there are a number of different 10mm pistol styles out there, one gun that isn't available in this caliber is the Heckler & Koch USP. The USP is an excellent design, is quite strong and has good capacity. The only problem is that the 10mm Auto caliber is missing from HK's lineup. If you're willing to spend a little money and don't mind altering a perfectly good gun in the process there is an option available to the 10mm fan.

This USP 10mm conversion belongs to MBSL (from HKPro.com). Starting out with a standard full-size HK USP in .40 S&W he had the barrel reamed out to 10mm length. (It must be noted that a standard 10mm chamber reamer doesn't exactly match the HK .40 S&W chamber and so some finish work on a lathe will be required.) The stock ejection port was large enough to eject empty 10mm cases, but not loaded cartridges. Because of this the ejection port has been opened to allow for proper clearance. In most instances the main problem with converting .40 S&W pistols to 10mm is mag well and magazine issues. Basically the OAL of the 10mm cartridge is just too long to fit. Strangely enough though the mag well of the .40 USP is large enough to accept widebody 1911 mags which happen to be big enough for the 10mm. In this case STI .40 mags were used (Paraordnance P16 mags also work). To work though a new mag release notch need to be cut and the follower modified to properly engage the slide stop. The only other thing needed is a stronger recoil spring, which in this case is a Wolff 16lb unit. The final product is a HK USP 10mm Auto!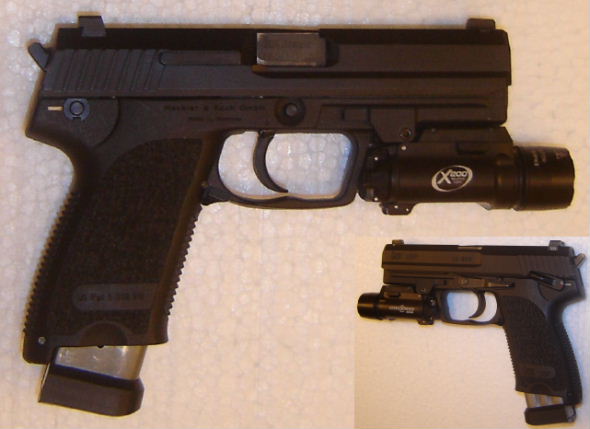 September 18, 2004

Here is a picture submitted by Hahns of his very, very nice 10mm collection. Going from left to right are an EAA Witness Compact, S&W 1076, Glock 20C Competition, Ruger Buckeye, S&W 610 with 6-1/2" barrel, Wyoming Arms Parker, Colt Delta Elite with Wilson Combat drop-in parts, and a Colt Double Eagle 1st Edition. In the center is a 7" iAi Javelina and, of course, a Thompson 1927A1 with a horizontal grip. Below are a goodly number of magazines, including a 30-rounder for the HK MP5-10. And finally at the bottom is a whopping 460 rounds of Winchester 200gn Black Talons!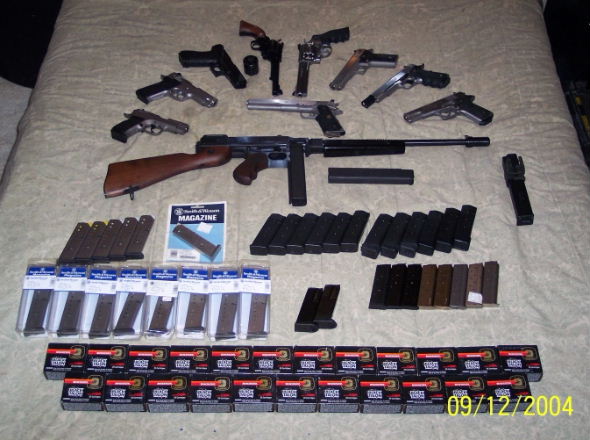 September 18, 2004

The Wyoming Arms Parker is definately not in the same class as a Colt Delta Elite or S&W 1006, but it is a 10mm and that makes it desireable to those, like me, who collect guns chambered for the 10mm Auto. The 5" version are not all that uncommon, but the same can't be said of the 7" gun. Here's a LNIB 7" Wyoming Arms Parker with adjustable sights. I don't know if I'll ever shoot it, and it isn't even pretty, but to my eyes it's a keeper!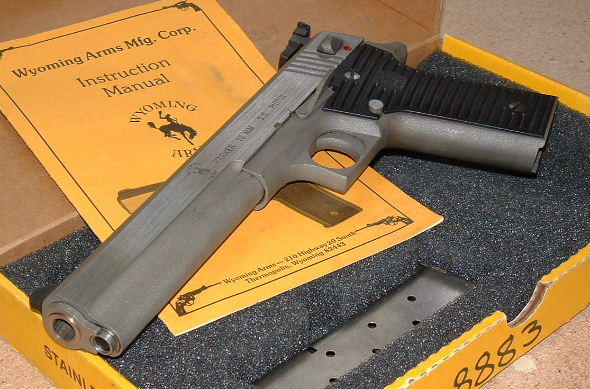 March 3, 2005

As far as I know this is the only one of its kind; a Glock G20L! Apparently the slide is a KKM Glock 21 6" longslide fitted with a custom .45/10mm barrel (the exterior dimensions are machined to fit the .45 ejection port while the chamber and bore are 10mm). Normally it's not possible to simply throw a 10mm barrel in a .45 because the extractor won't be able to reliably grab the rim of the smaller 10mm case. So far this doesn't seem to be an issue. The longslide conversion isn't cheap, but I'm sure once people see ColoradoGlocker's G20L they'll be phoning in their orders to KKM!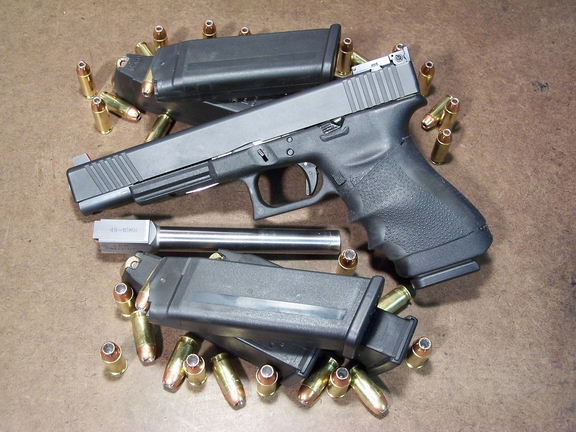 March 20, 2006

I was just commenting in the previous entry how it was "the only G20 longslide," and then here we have another. This one belongs to Nick who believes that this is probably the third one made. Nick had Irv Stone of BarSto Precision hand fit the 6" 45-10mm barrel and slide. As this Glock is a dedicated hunting piece the trigger has a two pound pull weight. The 10mm rounds in the picture are Doubletap's 200gn Beartooth Bullets which clock about 1,400 fps from the 6" barrel. As you can see this G20 longslide uses the new OD green frame which I think is particularly striking. When it comes to Glocks I think this is about as good as it gets!