Smith & Wesson


SMITH & WESSON 10MM FIREARMS
Model
Description
Status
Rating
1006
5" barrel with slide mounted safety/decocker.
Discontinued
1066
4.25" barrel with slide mounted safety/decocker.
Discontinued
1026
5" barrel with frame mounted decocker (ala' Sig).
Discontinued
1076
4.25" barrel with frame mounted decocker (ala' Sig). Addopted by F.B.I.
Discontinued
1046
5" barrel with DAO trigger. Very rare with only 151 made.
Discontinued
1086
4.25" barrel with DAO trigger.
Discontinued
610
6-shot N-frame revolver. Available in 3", 5", 6" and 6.5" barrel lengths.
Discontinued
Additional Notes: The S&W 10xx series pistols are undoubtedly some of the best-built 10mm firearms ever made. They are very robust and are quite reliable. Unfortunately these guns are no longer produced and are only available on the used-gun market at this time.
OVERVIEW
Smith & Wesson offered more models in 10mm than any other manufacturer. Not only did they make six different models of semiauto pistols (three full-sized and three compact models), but they also chambered the 10mm in their N-frame revolvers! The Smith & Wesson guns are well built, all-stainless guns, and though they are no longer being produced they continue to be one of the more common 10mms still available.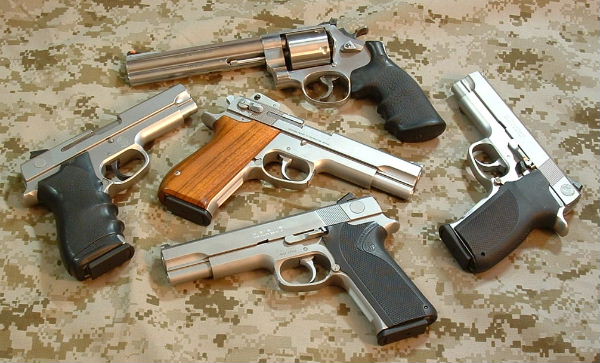 Clockwise from top: 6.5" 610, 1076, 1046, 1086 & 1006.
DETAILS / OBSERVATIONS / SHOOTING CHARACTERISTICS
Details

As noted, there are six different Smith & Wesson autoloaders chambered for the 10mm Auto. Probably a more accurate description would be that there are three different configurations, each in two different barrel lengths. Decoding the S&W 4-digit numbering code can be rather interesting. The first two digits refer to the caliber. The third digit refers to the what I guess you would call the model configuration (barrel length and trigger/safety operation). The final digit indicates the material the gun is constructed of. Smith & Wesson's 10mm offerings include the following models:
1006 & 1066 - The flagship of the S&W 10mm line (if you want to call it that) is the 1006. This is a full-sized, all stainless steel semiautomatic pistol with a 5" barrel. This particular variant comes equipped with the standard S&W slide-mounted safety/decocker. As with all S&W 10xx series pistols it uses a 9-round magazine. It is available with either fixed or adjustable sights. The 4.25" compact version of the 1006 is the 1066. This gun is identical with the exception of the shorter barrel.

1026 & 1076 - Next come the 1026 and 1076. These two guns differ from the 1006/1066 in that they incorporate a Sig-style frame mounted decocker rather than the standard S&W slide mounted safety/decocker. It is important to note that with this kind of decocker there is no way to manually put the gun on safe. Again, the 1076 differ from the 1026 only in that it has a shorter barrel.

The 4.25" barreled 1076 was the gun chosen by the FBI as it's standard issue gun for the 10mm Auto cartridge. The F.B.I. guns differ from civilian 1076s in that they were not equipped with the standard S&W magazine-disconect and are so marked. They also wore what is often refered to the "humpback" or "palmswell" grips. 1076s without the magazine-disconnect bring a premium on the collectors' market.

1046 & 1086 - Finally there are the 1046 and 1086. These guns employ a double action only (DAO) trigger and have no manual safety or decocker lever. The 1046 is the 5" full-sized gun while the 1086 is the 4.25" compact version.

The S&W 1046 is a rather interesting gun. The purpose for a longer barrel (5" as opposed to 4.25" in this case) is to not only increase bullet velocity, but also provide a longer sight radius and more recoil-dampening weight out front. This is done in an effort to increase accuracy. A DAO trigger, however, is far from conducive to enhanced accuracy. Because of this the longer barrel length and DAO trigger system seem rather contradictory. To 10mm collectors the S&W 1046 is one of the most sought after guns chambered in this caliber though. The reason for this is simply that there were only 151 guns produced. It has been rumored that these guns produced for a federal agency responsible for safe guarding nuclear facilities, but I've never been able to confirm this.

610 - While most 10mm Auto firearms were designed for the law enforcement/self defense market, there is one Smith & Wesson that has been marketed more towards the hunting/competitive shooting crowd. Like the 10xx series pistols it is of stainless steel construction. Unlike the 10xx series though, it is not a semiauto pistol, but an N-frame revolver. Because of the 10mm's rimless design the 610 uses moon clips (full, half, or two-round clips are available). This therefore allows the use of .40 S&W ammunition which is relatively inexpensive compared to factory 10mm ammo. (It is important to thoroughly clean the chambers after firing the shorter rounds to ensure the longer 10mm case will seat fully.)

The Smith & Wesson 610 revolver has been offered in a variety of barrel lengths including 3" (Lew Horton limited edition), 4" (the most recent version), 5", 6" and 6.5" The 610 came standard with a non-fluted cylinder, but the 5" and the early 6.5" versions were equipped with fluted cylinders. The Lew Horton 3" version and the 5" fluted 610 are highly prized by collectors which is reflected in their scarcity and price.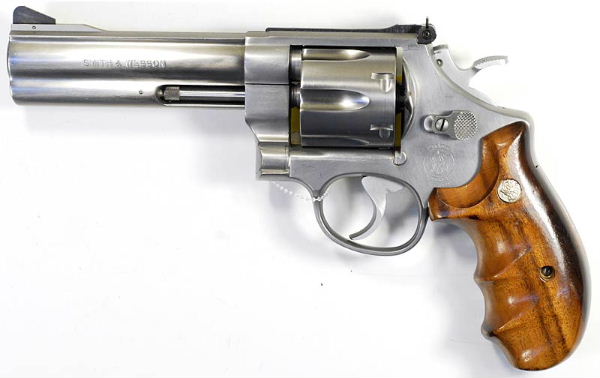 The rare, and highly sought after 5" fluted model 610.
Observations

Personally, the S&Ws are among my very favorite 10mms every made. The 10xx series pistols are incredibly durable. With all the different barrel lengths and fire-control options there is a pistol to suit just about any need. While some will look down on the 10xx series pistol because of its single-stack magazine, you have to admit that 9+1 rounds of full-power 10mm ammunition is nothing to sneeze at! They are admitedly a bit heavy, but this weight does help to dampen recoil.

For a long time used S&W 10xx series pistols were relatively plentiful and reasonably priced. This has begun to change however. Even though there are acutally more 10mms on the market as a few companies are beginning to add a 10mm chambering to their line-up, shooters "in the know" are recognizing the true value of a Smith & Wesson 10mm pistol. Where a 1076 police trade-in could be had for around $400 just a year or two ago, they are now fetching new-gun prices. Lower production guns like the 1026 and 1086 are now going for "eye-popping" prices as 10mm collectors bid against each other for the increasingly scarce guns.

The 610 revolver was the last 10mm added to Smith & Wesson's catalog and was also the last to be dropped. In its 5" and longer barrel lengths it is priced by deer and hog hunters. The 4" 610 was introduced with competitive shooters in mind, but along with the Lew Horton 3" gun it makes an outstanding "woods gun." I only wish Smith & Wesson would have brought out a 4" 610 "Mountain Gun." The N-frame is actually a bit big for the 10mm Auto (and some 610 owners have even converted them to 10mm Magnum by simply reaming out the chambers!), but again that weight is also an advantage. Even with the hottest loads the mass of the big 610 makes recoil a non-issue.

Anyone intent on putting together a "10mm battery" needs to have at least one S&W 10xx series pistol and 610 revolver. These guns are extremely well built and will never let you down!
Shooting Characteristics

All the Smith & Wesson 10mms are great shooters. As for the 10xx series pistols the single-stack grip is a little on the thin side for me. Having "cut my teeth" on hi-cap 9mms I prefer a bit beefier grip. If you too like a bit more meat on your pistol grip there's a couple things you can do with the big Smith. For the 1006, 1066, 1086 and 1046 pistols Hogue makes a nice rubber grip that incorporates a curved backstrap. The rubber grips are a bit thicker, but it's the backstrap that really makes the difference. On my 1086 I even went one step further and added a Hogue finger groove slip-on grip on top of the standard Hogue rubber grip. This not only gives me finger grooves (which helps me maintain a consistent grip), but also have a nice palmswell. It wasn't easy getting it on, but the gun now fits my hand like a glove! If you have a 1076 or 1026 (which uses a frame-mounted decocker) your options are a bit limited. I don't know how many they still have in stock, but last time I checked Smith & Wesson still had some of the F.B.I. "humpback" grips in their parts inventory. Not only are these grips more filling in the backstrap area, but they also incorporate a slight palmswell which fills your hand much better than the stock grips (in my opinion).

None of my Smith & Wesson semiautos (in any caliber) have what I would call "great" triggers. Out of the six models the 1086 and 1046 DAO pistols are probably the most difficult to shoot accurately. The S&W DAO trigger is actually pretty good as far as weight and pull length, but it definately takes some getting used to. When I first started using my 1086 as my CCW piece I was constantly pulling my shots low by 4-6". Part of this was cured by installing the Hogue grips as the curved backstrap didn't allow the gun to rotate down as much. Practice, and lots of it, is critical though. You really have pay attention to that DAO trigger, and I found it difficult to shoot another gun, such as a 1911, and then transition back to the 1086.

Magazines are another issue. The original mags had a yellow follower, but these were replaced with an updated design which is identifiable by its white follower. Personally I have had zero problems with the older, yellow follower mags, but if given the choice go with the white follower mags.

Shooting the S&W 10xx series pistols is pure pleasure! The heavy stainless steel construction gives you a lot of gun to hang onto and does a good job of dampening felt recoil. In my experience the guns have been utterly reliable and are not picking about power levels or bullet styles. In general they are reasonably accurate, and with loads they like can be real tack-drivers.

The 610 N-frame revolver is a very different beast. It is a massive gun for the 10mm cartridge and this mass translates into very little recoil. My experience with the 610 is limited to the 6.5" version, but it has proved to be extremely accurate. Unlike it's semiauto brothers (which are designed more with "social encounters" in mind), the 610 has an outstanding trigger and great sights. If I was going to handgun hunt with a 10mm this would be the gun. Whereas I do most of my 10mm shooting at 15 to 25 yards, the 610 sees most of its target time on the 100 yard rifle range ringing the 12"x12" steel plates with almost boring regularity.

As already mentioned, since the 610 uses moonclips to headspace the rimless 10mm cartridge .40 S&W ammo can also be safely used. For those who don't handload this can be an issue as factory .40 S&W ammo is quite a bit cheaper than factory 10mm fodder. If you're going to shoot a significant amount of .40 S&W through your 610 you need to be sure and thoroughly clean the chambers though. If powder fouling is allowed to build up it can prevent the longer 10mm case from chambering correctly.
LITERATURE
There are tons of excellent articles on the Smith & Wesson family of 10mm Auto firearms. I was planning on only including a couple, but there's just too much great info in these old articles. Enjoy!
June 1990 American Rifleman

This issue of American Rifleman includes a nice review, by Charles E. Petty, of both the Smith & Wesson 1076 and 1006. There's also information on the F.B.I. ammunition tests.
July/August 1990 Handgun Quarterly

An excellent article by Charles E. Petty on the S&W 1076 and its adoption by the F.B.I. This piece includes some interesting information about Smith & Wesson's relationship with the F.B.I., and some of the reasoning behind the selection of the 10mm over the .45 ACP.
1991 American Handgunner Annual (10mm Special Issue)

The 1991 American Handgunner Annual focuses exclusively on firearms chambered for the 10mm Auto. Though dated, it is an excellent resource. This particular article, by Frank W. James, is a 10,000 round torture test of a Smith & Wesson 1006. This is a "must read" for any S&W 10xx fan!
ADDITIONAL INFORMATION
F.B.I. Academy Notes

I came across two interesting PDF files on the FirearmsTactical.com website. They were originally authored by SSA Urey W. Patrick of the Firearms Training Unit at the F.B.I. Academy in Quantico, Virginia.

The first document, titled "10mm Notes," deals with the impetus behind the F.B.I.'s search for a new service cartridge, subsequent ammunition testing, the selection of the S&W 1076 10mm pistol, and some Q&A concerning the new gun and cartridge.

The second document, also written by SSA Patrick, is titled "Smith & Wesson M1076 10mm Semiautomatic Pistol: Instructional Tips & Techniques For Firing." This 25 page document is basically a training manual for the S&W 1076. A lot of it is basic information, but it must be remembered that not all F.B.I. agents are "gun savvy."

F.B.I. "10mm Notes."
(Click image above to open the PDF file.)




F.B.I. "S&W 1076 Instructional Tips."
(Click image above to open the PDF file.)


1076 & 1026 Decocker Upgrade

The story behind the F.B.I.'s selection of the S&W 1076, it's rather tenuous service and subsequent replacement is rather convoluted and confusing. Two of the main factors, however, were problems with the trigger/decocker package specified by the F.B.I., and the growing popularity of the .40 S&W cartridge.

In 1990 the first shipments of 1076s were ariving at Quantico, but it didn't take long for problems to arise and there were a few instances where the trigger would "lock up" leaving that particular agent with a fully loaded, but nonfunctioning firearm (definately not a good thing!). Part of the blame was placed on the F.B.I.'s training which taught agents to "prep" the trigger, but the bottom line was that the gun didn't work. In mid-1991 Smith & Wesson, not wanting to tarnish their relationship with the F.B.I. any further, recalled all the agency's 1076s to rectify the problem. (In the meantime the F.B.I. procured a number of Sig 226s and 228s to temporarily fill their agents' empty holsters.) By late 1992 the guns were "repaired" and returned, but by this time the F.B.I. was becoming increasingly interested in the .40 S&W cartridge. I have heard that there was even a second recall of the F.B.I.'s 1076s, but can't find much information on this. It's plain though, that throughout the latter half of the 1990s the feds were becoming more and more disenchanted with both the 1076 and the 10mm cartridge.

But what about all the "civilian" 1076s and 1026s? If Smith & Wesson has conceeded that there is in fact a problem with the gun's trigger/decocker, then this means all guns of this model will need to be repaired.
Smith & Wesson "Product Advisory"
S&W 1046 Factory Letter

As already noted the Smith & Wesson 1046 is a rather "rare bird" and there isn't a lot of information on this particular 10xx series pistol variation. With some of the other models, such as the 1006 and 1076, numbering in the tens of thousands produced, why were there so few 1046s? How many were made, exactly, and how does this compare to the other 10mm models? It was questions like these that prompted me to pay the $30 and get an official letter from Smith & Wesson historian Roy Jinks.

About two months later I received my letter and found it quite interesting. It included some information on the reason for the low numbers of 1046s as well as total production numbers for the other 10xx series pistols. I've scanned it and included it here for anyone interested.
High Capacity Mags for the 10xx Series Pistols

All six variations of the S&W 10xx series use the same 9-round magazine. There were, however, magazines with higher capacity available. In addition to the standard 9-round mag, both 11-round and 15-round mags were produced. These were made exclusively for the F.B.I. contract guns and were not available to the public. There are rumors that a number of people have seen a couple of these magazines at gun shows, but they remain elusive and will undoubtedly bring top dollar.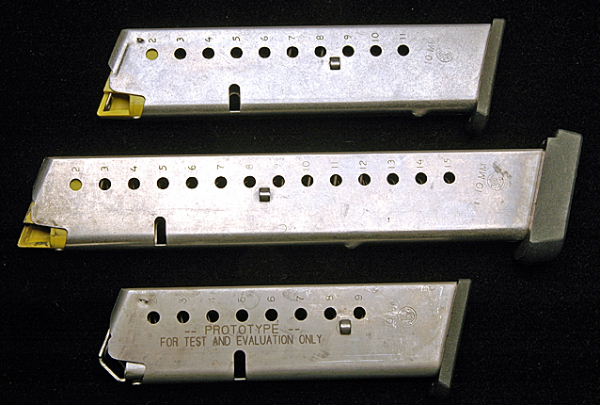 Photo courtesy of Paul Liebenberg. Top to bottom: 11-round mag, 15-round mag & 9-round mag.
Smith & Wesson M646 .40 S&W - 10mm Auto Conversion

Converting .40 S&W to 10mm Auto is nothing new, but these conversions typically involve the 1911 Government Model. If you're looking for something a little more unique you might want to take a look at the Smith & Wesson M646 as a possible project.

The M646 is a 6-shot L-frame revolver with a 3" barrel chambered for the .40 S&W cartridge. As the cylinder is long enough to chamber the 10mm Auto (max OAL of 1.260") the only real obstacle is the titanium cylinder's strength. The outside diameter of the 10mm case doesn't allow for a lot of metal around each chamber on an L-frame cylinder, plus the 6-shot capacity puts the cylinder notches directly over the chambers. One person who has successfully converted a S&W 646 is G33 (from Glock Talk) and according to information obtained from Smith & Wesson the titanium L-frame cylinder should be able to handle 37,500 psi.

Since the only work needed for this project is to have the titanium cylinder reamed out to 10mm Auto length it is a relatively simple conversion to do. It would be prudent, however, to limit shooting to mid-range 10mm loads as to not overstress the cylinder. Considering this is a light weight, 3" revolver it probably wouldn't be too much fun to shoot max 10mm loads anyway, so I don't see this as much of a handicap.

It's hard to beat a powerful, stainless/titanium, 3" mid-size revolver for either CCW or woods carry purposes. Add to this the fact that the 646 uses moon clips to headspace the cartridges (like the 610), and you can also fire standard .40 S&W ammo as well. To me this is a winning combination and I'm surprised more people haven't done this conversion.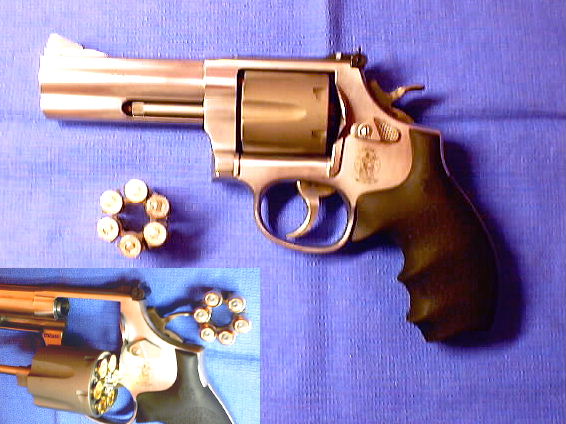 Smith & Wesson M646 .40 S&W-10mm conversion, courtesy of G33 (Glock Talk).
Smith & Wesson Full-Page Advertisement

Back in the early 90's, during the 10mm's heyday, every firearm manufacturer worth their salt was working to add a 10mm Auto chambering to their lineup. Those companies that had a 10 spared no expense in letting everyone know it.

Below you will find a full-page ad from Smith & Wesson proclaiming that not only do they catalog a 10mm gun, but they have six different models! (They actually produced seven, but for some reason the 1046 was not included in their listing.)