Springfield Armory
SPRINGFIELD ARMORY 10MM FIREARMS
Model
Description
Status
Rating
Omega
5" or 6" barrel, ported or non-ported, with dual extractors and adjustable sights. Available in either all-blued or blued frame with hard chromed slide configuration. Caliber conversion kits available.
Discontinued
Linkless
Standard 5" Government Model style 1911, but employs a linkless barrel.
Discontinued
Additional Notes: Both the Sprinfield Omega and Linkless 1911 pistols were unique designs. Unfortunately a combination of "patent infringement" problems (in the case of the Omega) and a general drop in popularity of the 10mm cartridge resulted in both guns being dropped from the Springfield catalog.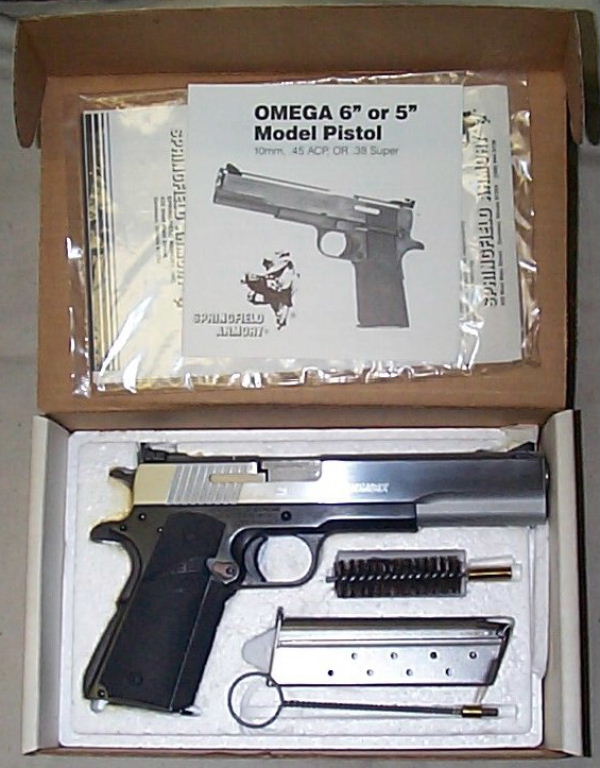 OVERVIEW
Springfield Armory was not the first gun maker to offer a 1911 format 10mm pistol. This is not to say that the Springfield 10mms were not unique, however. Both the Omega and Linkless 1911 pistols offered revolutionary modifications to the venerable 1911 Government Model design. Even though the 10mm cartridge fell from favor and was dropped by many firearms manufactureres, it is rather surprising that none of the Omega's or Linkless' updated features were retained.
DETAILS / OBSERVATIONS / SHOOTING CHARACTERISTICS
Details

Both Sprinfield Armory 10mms are derivatives of the 1911 Government Model. There are, however, significant differences between the Springfield guns and your standard 1911.
Omega - The Omega's frame is basically a standard 1911 Government model, but the slide assembly is a special design and was available in both 5" and 6" versions with either a standard blued finish or satin hard chrome (the frame was blued regardless of barrel length or slide finish). Designed by Joe Peters of Peters Stahl in Germany (West Germany at the time) the Omega slide had a number of unique features. First off, it used a linkless "modified Browning cam-lock" system. Also, since the Omega was designed to be a multi-caliber gun where only the barrel, and possibly recoil spring would need to be swapped out, Joe Peters and Tim Dillon (from Springfield Armory) designed the slide to make use of dual-extractors so that cartridges with different case head dimensions (including the 9mm, .38 Super, .38 Special Wadcutter, 10mm and .45 Auto) could be reliably extracted and ejected. Finally, these guns were available with "integral vent ports" to reduce muzzle flip. Though these guns are highly sought after by collectors, there were problems with parts breakage and since Joe Peters and Springfield Armory have terminated their partnership on the project spare parts are no longer available from either Springfield Armory or Peters Stahl.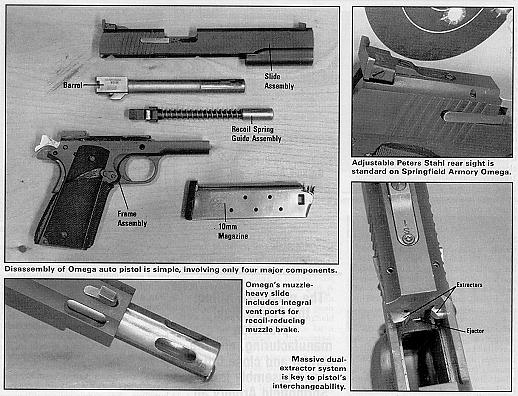 From the December, 1987 issue of Shooting Times.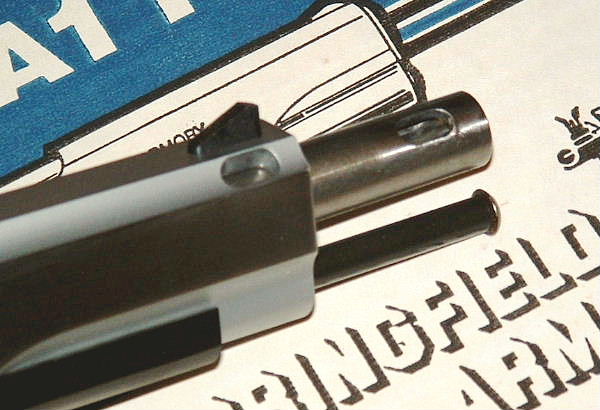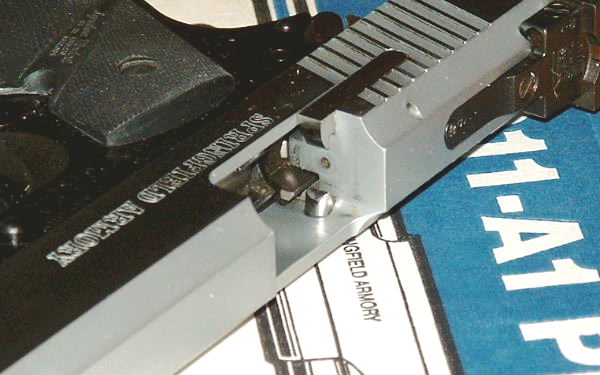 Linkless - The Springfield "Linkless" 10mm also makes use of the linkless barrel design, but there are a couple of important differences between the Omega and the Linkless. Most significantly the Linkless was not intended as a multi-caliber gun and therefore does not employ dual extractors. Secondly, the Linkless barrel still retains the more conventional locking lugs which engage recesses machined into the underneath side of top of the slide. The obvious benefit to this system is that it takes advantage of the linkless design, but can be retrofitted (with proper fitting) to existing 1911 slides. The Linkless was only available in 10mm, but it was originally planned to also be offered in .38 Super, .40 S&W and .45 ACP, as well as conversion kits so you could convert your existing 1911 to the "linkless" system.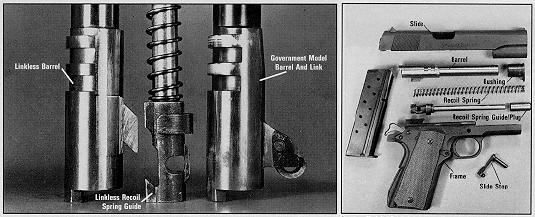 From the April, 1991 issue of Shooting Times.
Observations

Springfield Armory has a good reputation for building quality firearms. Both the Omega and the Linkless 1911 pistols were built to these high standards, and also included a number of unique and very desireable features. Unfortunately neither the Omega or Linkless pistols has survived. In the case of the Omega the culprit was legal problems concerning certain Peters/Stahl patents. (Interestingly, an Omega-style pistol is still being built by Peters/Stahl in Germany.)

Peters/Stahl 1911 "Sport" Model
As for the Linkless, the gun's failure was simply lack of interest from the gun buying public. It is always amazing when an obviously superior product fails to be successful (such as the 10mm Auto!). There have been a number of small custom shops that use the linkless design in their 1911s, but no major manufacturer currently offers this system. I would think that the linkless design would be perfect for a line of hunting 1911s chambered in high pressure cartridges like the 10mm Auto, .45 Super, .45 SMC and .400 Super. Only time will tell if the linkless 1911 will make a comeback.
Shooting Characteristics

Unfortunately I have not had the opportunity to shoot either of the Springfield Armory 10mms. I would especially like to try out the Omega with its 6" ported barrel. As I understand it though, care must be taken when shooting the Omega as there are some concerns with parts breakage. While the parts in question are not major, they are almost impossible to find these days.
LITERATURE
December 1987 Shooting Times

In this issue of Shooting Times Dick Metcalf introduces a revolutionary multi-caliber 1911 pistol; the Springfield Omega. Mr. Metcalf does a good job of covering all the mechanical aspects and operation of the Omega. It's unfortunate, and somewhat surprising, that the Omega didn't survive.
April 1991 Shooting Times

Layne Simpson's "Springfield Armory's Link To The Future" covers the other, not-so-well-known Springfield 10mm. Mr. Simpson does an excellent job of describing the benefits of a linkless system, and how it especially benefits pistols firing powerful cartridges like the 10mm Auto.
ADDITIONAL INFORMATION
1987 Springfield Armory Catalog

The 1987 Springfield Armory catalog introduces the new multi-caliber Omega pistol. The catalog includes a full page listing of Omega parts and accessories.
Potential Guide Rod Breakage

-