Dan Wesson
DAN WESSON 10MM FIREARMS
Model
Description
Status
Rating
Razorback
All stainless, 5" barrel with fixed or adjustable rear sight. Originally a limited run, but now regular production.
In Production
Commander & Commander Bobtail
All stainless, 4-1/4" barrel with fixed XS night sights. Available with standard or "bobtail" grip configuration.
In Production
Pointman Seven
All stainless, 5" barrel with adjustable rear sight.
In Production
Global Hunter
6" ramped barrel with dustcover rail and adjustable rear sight. Only a couple made.
Discontinued
CCO
All stainless, 4-1/4" barrel mated with "Officer's" frame and fitted with fixed rear sight. Very few made.
Discontinued
Additional Notes: Dan Wesson is, in my opinion, largely responsible for the current wave of new 1911 10mms. Dan Wesson guns offer many custom features at a reasonable price.
OVERVIEW
In my opinion, a lot of the credit for the renewed interested in the 10mm goes to Bob Serva and Dan Wesson Firearms. Known for their quality, strength and accuracy, Dan Wesson revolvers have earned an enviable reputation in the firearms industry. A few years ago they threw their hat into the semiauto pistol arena by introducing their own line of single action 1911 pistols.

For a number of years the out-of-production Colt Delta Elite has seen an increase in interest, and prices have reflected this almost doubling their original retail price. Recognizing this hole in the 1911 market Dan Wesson Firearms introduced a limited run of their "Razorback" 10mm pistol. The response was so positive that the Razorback was put into regular production and the 10mm chambering was added to other Dan Wesson 1911 models. One particular model that 10mm fans have been clamoring for for years was a Commander-length 1911 10mm and Dan Wesson answered the call in 2004 by introducing the Patriot Commander. To top it all off Dan Wesson Firearms offered the Patriot Commander with either a standard or "bobtail" grip frame, and at a price that was substantually below what most other 1911 makers were asking for their guns.

In addition to their Commander-length and 5" full-size 1911 10mms, Dan Wesson Firearms also had plans for a 6" "Global Hunter" which included a picatinny rail in the dustcover, and a CCO (Commander slide on an Officer's frame). Unfortunately, Dan Wesson Firearms has been purchased by CZ-USA and apparently the wide variety of 1911 models offered by Dan Wesson has been trimmed considerably, including the Global Hunter and the CCO.
DETAILS / OBSERVATIONS / SHOOTING CHARACTERISTICS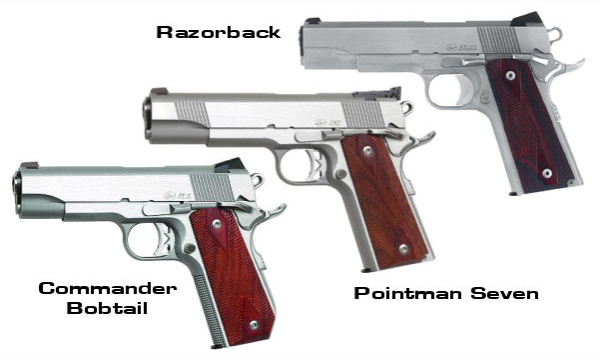 Current production Dan Wesson 10mms.
Details

While most 10mm Auto firearms were designed for the law enforcement/self defense market, there
Razorback - This is the gun that, in my opinion, is largely responsible for renewed interest in the 10mm Auto cartridge. Prior to the Razorback there were very few 10mms in production, and those had been around a while. One of the most popular 10mms on the used gun market was the Colt Delta Elite, and the people at Dan Wesson saw this as a prime opportunity.
The following is taken from a post by Dave Severns on the 1911Forum.
(Thanks for the great info Dave!)


Regarding the Razorback, the first RZ-10's were offered with the buyer's choice of Front Cocking Serrations (FCS) or no-FCS, and either fixed or adjustable sights. In selling/working on quite a few RZ's, I've seen several different variations, and describe the RZ's as actually occurring in three different groups. They are:

The original 'X of 150' guns - You could almost call these the '1911forum' Razorbacks, as these guns were developed using guidance and input from members of this forum, and forum members were even allowed to designate/claim exactly which Serial Number they wanted! These guns could be pre-ordered, much like a limited-production gun, with the buyer stating his/her preference as to sights and front cocking serrations. What a cool time that was... Features:

. Forged frame and slide
. Choice of FCS or no-FCS
. Choice of fixed or adjustable sights
. Either 'low' or 'high' blade front sight
. 'Hawg' logo on port side of frame dustcover
. 'X of 150' lazer inscription on port side of slide, just above Hawg logo
. Black wood grips with DW logo insert
. 2-pc guide rod
. CMC style thumb safety
. CMC style slide stop
. Nickle-plated CMC grip safety
. Wilson SS mainspring housing
. Laminated test target
. Razorback dog tags and a special 'thank you' letter from DW even came with some examples

The "Post-150 Razorbacks" (S.N. >150 but <650) - I've seen a lot of variability here. These forged frame and slide guns may or may not bear the Razorback name and logo, but did not have the 'X of __" logo on the slide, and could not be ordered with the buyer's choice of FCS vs no-FCS, or choice of sights. HOWEVER, the factory DID continue to make both variations of both serrations and sights. At one time, one of my customers/friends, and a member here 'yotehunter', had FIVE such RZ's in his collection. Believe he had all possible combinations, plus 1 'spare'. Anyhow, I've seen these post-150 with either 2-pc or 1-pc FLGR's (including some guns which were shipped with chrome-plated guide rods, where-in the chrome easily flakes and peels), and wood or Hogue rubber grips. IIRC, these guns came with CMC style small parts, like the original Razorback. Test targets may have been included, but doubtful if dog tags or letters were included with these.

The 'RZ-10' model guns - These were made post-S.N. 650, and no longer bore the name "Razorback", but were, instead simply marked "RZ-10" on the slide. Being newer, and the last version of the guns made until production stopped, these guns typically came as follows:

. Forged slide with investment cast, non-undercut frame
. Hogue Rubber grips
. 1-pc FLGR
. FCS and adjustable sights as standard configuration
. Ed Brown grip safety and slide stop
. STI thumb safety
. Checkering on some models
. 20-ish lpi non-Wilson MSH
. No dog tags, letter, or test target

The new post-CZ buyout 'Razorback' guns - The Razorback is now back in production. This full-size, stainless, 10mm pistol is offered with its trademark, serrated rib atop the forged slide, and a solid aluminum trigger. Slide is offered only with NO front cocking serrations, and fixed Champion (Novak style) black sights (not night sights). Frame is uncheckered, and features Ed Brown slide stop and grip safety, and STI thumb safety. Grips are double-diamond checkered coco-bolo. RZ-10/Razorback markings have yet to be determined, but will be finalized very soon.
Commander & Bobtail Commander - This is the gun that 10mm enthusiasts have been waiting for! While I wouldn't say that the standard 5" 1911 10mms are a dime a dozen, they are probably the most common "newly introduced" 10mms available these days. While the Government Model is a great gun, it isn't quite as concealable as it could be. The Commander (4.24" barrel on a standard GM frame) has been around for decades, but pretty much in .45 only. Dan Wesson has stepped up the plate again by offering a Commander in 10mm Auto!

In my opinion, a Commander-sized 10mm is the perfect combination of concealability and power. To help improve the gun's concealability even more, Dan Wesson is also offering a "bobtail" version which trims the corner off the butt of the grip. My current 10mm carry piece is a DW bobtail Commander and the bobtail really makes a big difference as the grip doesn't tend to "print" as much, and it is also far less likely to snag on clothing.

Dan Wesson Commanders come standard with tritium X-Press fixed night sights, but I had mine fitted with MMC low-profile adjustable night sights. There have been many reports of "teething" problems with the 10mm Commanders, and this was also true of mine. After an extended break-in period though, mine runs great with mid-range (approx. 1150fps) 10mm ammo.
Pointman Seven - The Pointman Seven is, as I understand it, almost identical to DW's Razorback with the exception of some minor cosmetic differences.

I do not own a Pointman Seven, but do have one of the "experimental" 10mm Patriots which I have been extremely happy with. Though not as good of a deal as they were prior to the company's aquisition by CZ-USA, the Dan Wesson pistols are a lot of value for the money.
Global Hunter - In the 10mm world one of the most requested guns was a 1911 Commander. Dan Wesson recognized this void and not only filled it, but went one better by offering the bobtail option. The Dan Wesson company has always been very good at thinking "outside of the box" though, and decided to also lengthen the standard 1911 10mm. The result was the 6" Global Hunter!

While this gun included all the options of the company's other top-end 1911s, it also included some unique features. Most noticable is the picatinny rail machined into the gun's dust cover to allow for such accessories as tactical lights, lasers, or even optics. The other major difference was a ramped barrel which no other Dan Wesson 1911 used.

A handful of Global Hunters were produced, but unfortunately the gun was dropped when the company came under the CZ-USA banner. There have been ocassional rumors about the Global Hunter being brought back, but so far it hasn't happened.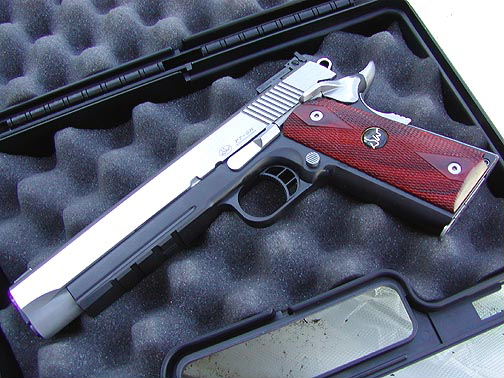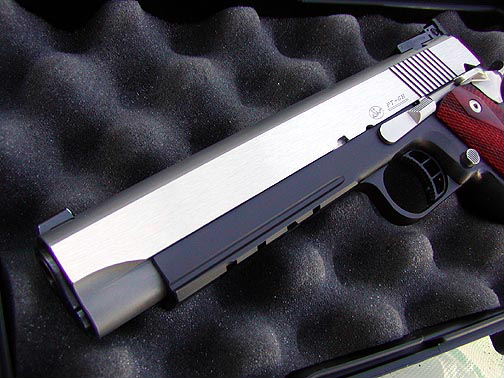 CCO - The CCO is a hybrid using a Commander length slide and an Officer's frame. This combination makes the gun look like a bit like a shrunken Government Model. The advantage is that you get a truly compact gun, but maintain relatively higher muzzle velocities due to the longer barrel (compared to a standard Officer's length barrel). The CCO was supposed to be available in both .45 and 10mm calibers, but was scrapped (just like the Global Hunter) when Dan Wesson was acquired by CZ-USA.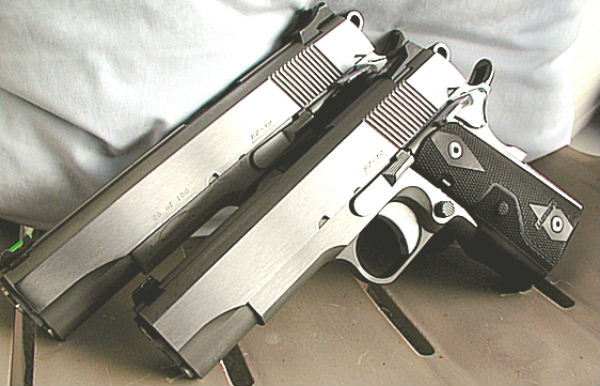 A rare DW CCO 10mm with a Razorback for comparison.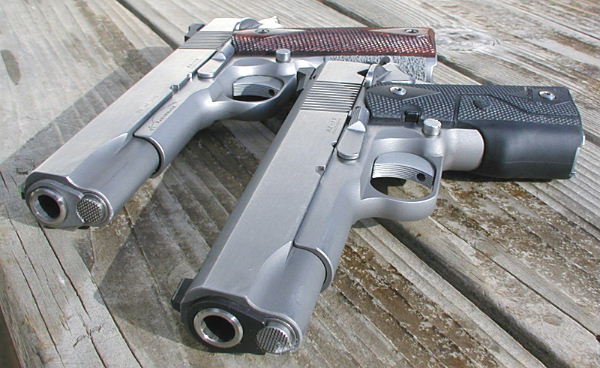 LITERATURE
2004 Handguns Buyer's Guide

Mike Detty does a review of one of the early RZ-10 Razorbacks. Included in the interview are some questions and answers with Bob Serva, president of Dan Wesson Firearms at the time. The article does a good job of covering the important aspects of the pistol, and also includes a short review of the Razorback/Mech Tech combo.
ADDITIONAL INFORMATION
Bob Serva, Dan Wesson & CZ-USA

Dan Wesson is not a new name to firearms. Though the company has had some financial difficulties in the past, and has changed hands a number of times, Dan Wesson Firearms recently made a big comeback under the direction of Bob Serva.