Olympic Arms
OLYMPIC ARMS 10MM FIREARMS
Model
Description
Status
Rating
CAR-97/10mm Carbine
16" barrel, blowback operated AR carbine.
Available
Additional Notes: The Oly 10mm carbine was, for a long time, one of the few long guns available in this caliber. More 10mm carbines are now available, but the AR design brings with it a lot of advantages. The one real weakness with the Oly system is the lack of a dedicated 10mm magazine and mag block.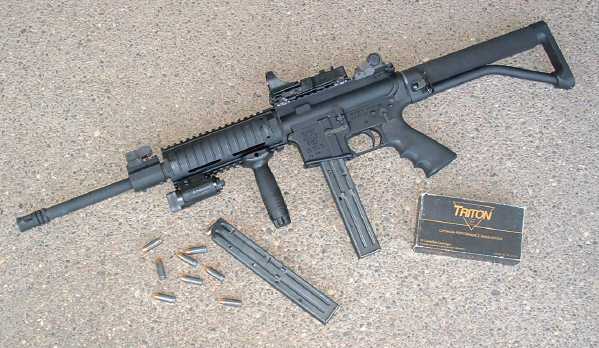 OVERVIEW
Olympic Arms manufactures AR15 carbines and rifles. Included in their list of products are some pistol caliber chamberings, available as either a complete gun or upper assembly. The complete 10mm carbine (with 16" barrel) is currently listed as the K10 16" Pistol Cal. Rifle (though when I purchased mine a few years back is was listed as a CAR-97/10mm).

The Oly 10mm carbine has gone through a number of changes over the years. The current design employs a simple blowback system, but the original design incorporated a gas assisted system similar to the .223 chambered AR. During the Assault Weapon Ban guns were not available with flash surpressors, bayonet lugs or collapsible/retractable stocks. My personal 10mm AR was produced during this time and came with a permanently fixed collapsible stock and plain 16" barrel. One option that was available was either the standard A2 carry handle and front sight, or the A3 flattop version with picatinny gas block. This option may still be available, but it is not currently listed on the Oly website.
DETAILS / OBSERVATIONS / SHOOTING CHARACTERISTICS
Details

As noted,
Observations

As noted,
Shooting Characteristics

As noted,
LITERATURE
ADDITIONAL INFORMATION
Semi-Custom Oly 10mm Carbine

Well here it is! I figured that if I was going to keep on bragging about it I might as well go into a little more detail on my Olympic Arms CAR-97/10mm project. I am by no means a gunsmith, but I have to say that I'm pretty proud of this thing.

When I had my gunsmith order the Oly carbine I specified the flat-top upper receiver and picatinny rail gasblock. I also opted for the plain 16" barrel as I didn't care for the looks of the Oly muzzle brake. When it arrived I took it home to drool over for a couple days, but then it went back to my smith. I had him ditch the standard AR handguards and replace it with a Les Baer 4-position picatinny rail, free-floating tube. I also had him cut back the barrel and permanently install a Cavalry Arms Cav-Comp which is technically a muzzle brake (making it legal), but it looks a lot like the standard AR "bird cage" flash surpressor. With the new brake the barrel has an OAL of 16.25". The last thing I had my gunsmith do was a trigger job as the factory Oly trigger was a bit mushy. While the gun was at my smith's I picked up a few more "gotta' haves" for it. When I got it back I installed a C-More electronic sight, an ARMS #40 flip-up rear sight, a Bushmaster BMAS flip-up front sight, a Knight's vertical foregrip and Knight's rail covers. The rail covers were designed to be used with Knight's RAS and so the Les Baer tube had no notches to hold the covers in place and keep them sliding back and forth on the picatinny rails. To solve this I just drilled a small hole in the plastic rail cover and put a small screw through it. The small nut on the back sits in one of the notches in the picatinny rail and this keeps it from moving. Works for me!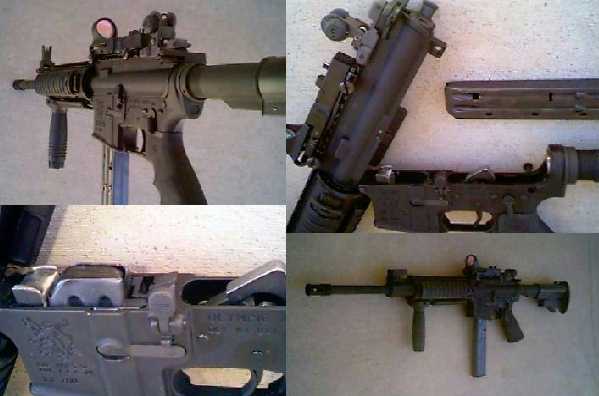 The main work on my project gun dealt with the magazine system. While the standard Oly setup worked fine I just didn't like the modified magazines with the "filler" block welded to the back. I wanted to use an actual mag block like the original 9mm Colt SMG so the first thing I had to decide upon was what mags to use. I looked at M3 Greasegun mags, Sten mags, and Uzi mags. The Oly came with a modified .41 AE Uzi mag and though it had the lowest capacity (they hold 20 rounds) it seemed to be the closest fit, plus I've heard the Uzi mags are much better built and more reliable, and so I settled on these. Next I chose the Colt one-piece mag block because it has the lock that holds it in the mag well even if the mag release is fully depressed. When I got the .41 AE mags I had ordered I was disappointed. They fit great in the mag block, but they were too short (front to back) for the 10mm cartridge. I compared it to the one that came with my carbine and noticed that the front of the Oly mag had been pinched just a bit to bow it out making it deep enough for the longer 10mm round. I emailed Tom Spithaler at Olympic Arms about this and he said they had a special jig for this job and that he'd modify them for me at $5 per mag. The mags were perfect when I got them back, but now they didn't fit in the Colt mag block. The mags were just a bit deep (front to back again) so not much material would need to be removed, but there wasn't a helluva' lot of metal to begin with. I ended up spending hours and hours with heavy grit sandpaper carefully removing metal from the front and back of the opening. Now the mags fit great, but up popped another problem. When the mag block is inserted in the mag well the upper won't close over the mag block. The Colt ejector will not work with the Oly bolt and so I had to remove it and stick with the Oly "spring and paperclip" setup. Also, the bolt hold-open tab sits right under the pin for the "spring and paperclip" and so it needed to be removed as well. I thought I had it whipped at this point, but then I found another problem. The Oly bolt doesn't allow enough clearance for the steel Colt feedramp. This was a pretty simple Dremel operation and I just ground down the "ears" until the bolt cleared the feedramp. At this point everything locks together good and tight! My next job was to cut the hole in the mag body for the mag catch. My lack of appropriate tools left me working with a small jeweler's file for a few hours, but I got it done and it worked great. The mag locked in tight and dropped free when the mag release is depressed. I loaded up a mag to cycle a few dummy rounds through it, but the mag wouldn't lock in place. I could see through the ejection port that the tip of the bullet was striking the front edge of the steel feed ramp not allowing it to seat high enough. This meant more Dremel work, but it was quick and easy work. That was the last hang-up though. The only thing left was to take it out and test fire it. It appeared to strip, feed, and chamber a round from the magazine fine, but I was a little concerned about how it will eject. When cycling they gun manually I had a difficult time getting the loaded (dummy) rounds to eject clear of the gun.

When I took it out to the range everything went perfectly. It fed, fired and ejected everything from my light, plinking loads to my full-powered loads in bullet weights from 135gns to 180gns. I did have one FTF on the first round in one of quick mag changes, but I quickly realized that this was my own fault because I had not fully seated the magazine. Now I make sure to give a tug on the mag after seating it to make sure it's locked securely.

This gun is one of my all-time favorite guns to shoot! Even with my hottest loads there is almost no recoil and with the C-More sight it is very easy to keep on target during rapid firing. I had to have this gun in 10mm Auto, but it would have been a lot easier to do it in .40 S&W as I would not have had to make all the modifications to the mag block and magazines. Oh well, I guess that's the price of being a 10mm freak!
Oly 10mm Carbine Project - Final Upgrades

One major nemisis of the "firearm enthusiast" is figuring out just what to spend your pennies on. Whenever I come into a chunk of change it usually goes towards a new gun. While it's always great to add a new firearm to the collection this is often at the expense of other "necessaries" such as grips, leather, reloading components, optics, trigger jobs, new sights, etc. While the cost of the final accessories for this project were not major, I did have trouble keeping the funds from being spent on other items. Oh well...

One item that I had always planned on adding to the gun was some kind of tactical light. I had pretty much settled on the Insight Technologies M3, but then saw that they also had a version that included an LED light. This looked pretty cool and so I had to save up little more. After a while though, I got to thinking that while it would be nice to have the LED, it wasn't really necessary and in all honesty would probably see little use. Therefore I went back to my original plan and purchased a brand new M3 off of eBay. I was going to trim down the Knights Armament rail cover on the bottom rail so that it would fit between the tactical light and the vertical foregrip, but quickly determined that it wasn't going to work and really wasn't necessary. I had also planned to purchase the optional pressure pad that can be attached to the M3 so that you can locate a pressure sensitive switch on the grip (or other surface), but once I got the light mounted I realized I really didn't need it. Due to the location of the switch in relation to the vertical foregrip I can just use the knuckle of my index finger to flip on the light. The M3 tactical light works great and even aligns perfectly with the C-More electronic sight!

The final addition to my Oly 10mm project was the replacing of the standard fixed CAR-style stock. I wanted something a little more "tactical" looking than a standard A2 stock and this is why I had originally opted for the post-ban fixed CAR stock. After using it for a while I just didn't care for it. It seemed a bit long for this kind of gun, the butt was too small and I didn't like the feel of it. On top of all that a fixed CAR stock just seemed fake. A few months ago though I found a replacement stock for the AR on the DSA website. Manufactured by ACE Ltd., the stock uses a standard A2 buffer tube, but is about 3/4" shorter in overall length. It is very rigid, has a foam cover for the buffer tube affording an excellent cheek weld, gives you a sling swivel where it connects to the receiver and the butt has a larger surface area. On top of all that it just plain looks cool!

While there may be other interesting accessories and gadgets out there still undiscovered, I think I'm pretty satisified with my Olympic Arms CAR-97/10mm carbine just as it is now. With all the stuff on it it's no featherweight, but that just helps to dampen recoil. All in all it's been a fun project and in the end I have a very unique firearm!