LAR Grizzly
LAR GRIZZLY 10MM FIREARMS
Model
Description
Status
Rating
LAR Grizzly
Enlarged version of the 1911 Government model with a 6" barrel.
Discontinued
Additional Notes: The LAR Grizzly is overly large for the 10mm Auto, but the gun's size allows for conversion to other large caliber magnum autoloading calibers.
OVERVIEW
The LAR Grizzly Mark I is basically a massive Colt Government Model 1911 with a 6" barrel. It was originally designed for the .45 Winchester Magnum and weighing in at 58 ounces in its 10mm chambering it easily handles the hot, full-powered 10mm loads.
DETAILS / OBSERVATIONS / SHOOTING CHARACTERISTICS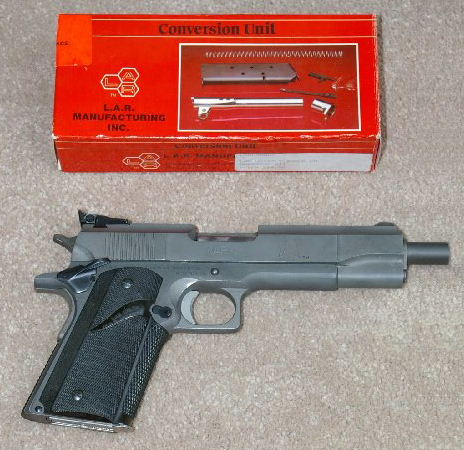 LITERATURE

ADDITIONAL INFORMATION