Paraordnance
PARAORDNANCE 10MM FIREARMS
Model
Description
Status
Rating
Paraordnance 10mm Frame Kit
Bare Paraordnance hi-cap frame for the 10mm Auto.
Discontinued
Paraordnance P16-40 10mm Conversion
P16-40 .40 S&W converted to 10mm Auto.
Available
Additional Notes: The Paraordnance P16-40 makes a great base-gun for a 10mm conversion. If you're looking for a hi-cap 10mm and don't care for Glocks or the EAA Witness, this is the gun for you!
OVERVIEW
The Canadian company of Paraordnance got its start in 1988. Paraordnance did not start out producing guns though. Instead, their first offering was a "kit" which included a 1911 wide-body frame and magazine. After purchasing this kit a person could either use the existing slide from their Colt Government Model, or purchase a new slide seperately to create a new, high capacity .45 caliber 1911. Soon Paraordnance was producing complete guns in three sizes. These included the full-size P14, a "Commander" sized P13, and an "Officer's" version called the P12.

About the time the 10mm Auto was coming into prominence in the early 90's, Paraordnance did offer a few kits in 10mm, but apparently there were no complete guns built in this caliber.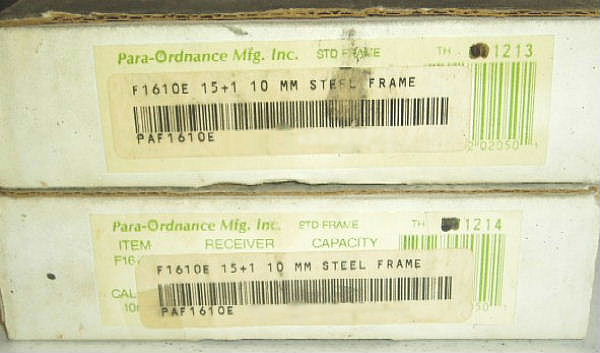 Paraordnance 10mm frame kits.
DETAILS / OBSERVATIONS / SHOOTING CHARACTERISTICS
Details

As already mentioned, Paraordnance never produced complete 10mm Auto pistols. It is possible, however, to either build a Paraordnance 10mm pistol, or convert an exisiting .40 S&W Paraordnance pistol to 10mm.
Paraordnance 10mm Frame Kit - These 10mm kits are extremely rare, but they are out there. Probably the most important part of the kit is the 10mm magazine as standard .45 caliber mags won't hold the slimmer 10mm case in the proper position for reliable feeding. Until the last couple of years your only option for the upper half was a Colt Delta slide because a .40 caliber breach face is required. With more and more companies producing 1911 pistols in .40 S&W though, this is no longer an issue.

Paraordnance P16-40 10mm Conversion - This is a project I wanted to do for some time. My personal P16-40 conversion started out as a stainless "Limited." Since the P16-40 Limited already comes with a lot of the custom features I wanted there wasn't a whole lot that needed to be done.

The first thing on the list was a 10mm barrel. If you're trying to keep your costs down you can simply have the stock .40 barrel reamed out to 10mm dimensions, but I decided to go with a Schuemann .400 Ultimatch barrel. The Schuemann bull barrel required a reverse plug and the requisite fitting of both barrel and plug. The next requirement was an appropriate recoil spring and a quick search of my gunsmith's inventory netted a Wolff 23lb Delta Elite spring. The final item added to the list was a new aluminum trigger to replace the ugly plastic trigger that Paraordnance uses.

There are still two more modifications that need to be done on this particular gun. First off, the slide stop notch needs to be cut out. Secondly, an EGW oversized firing pin stop should be installed. These two upgrades will significantly reduce the wear and tear that the 10mm cartridge puts on the 1911.
Observations

Anyone familiar with Paraordnance pistols knows that they are big, beefy guns. Add to this a steel frame and a full high capacity mag and it can start to feel more like a brick than a gun. On the plus side, the Paraordnance "Limited" guns offer a lot of features at a good price. Combine this with 16 rounds of 10mm and a nice single-action trigger and the idea of a hi-cap 1911 in 10mm starts to look very appealing. I wouldn't consider it a top choice for concealed carry due to its size and weight, but it makes a great "woods gun" for those who don't like the Glock 20 and still want a hi-cap 10mm.
Shooting Characteristics

The Paraordnance 10mm is a great shooter! Yes it's big and heavy, but when shooting full-power 10mm ammunition those actually become real plusses. The wider grip frame seems to distribute recoil over more surface area and therefore decreases the perceived kick. The extra weight of an all-steel gun also helps to dampen recoil. Add to this a good set of adjustable sights and a crisp single-action trigger and the fun really kicks in! I rarely carry the Paraordnance for the simple reason that it's hard for me to wear concealed, but it is one of my favorite 10mm shooters.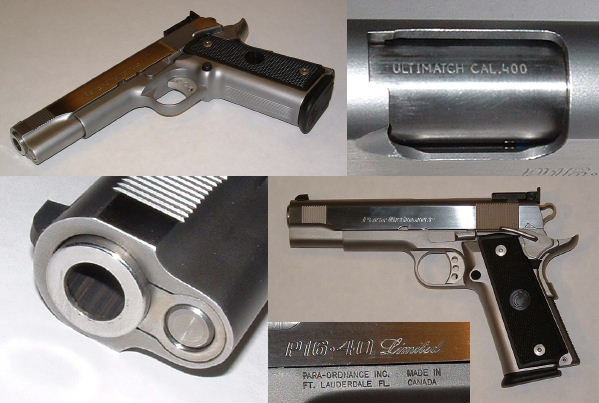 LITERATURE

ADDITIONAL INFORMATION
Paraordnance/Colt Delta Gold Cup Hybrid

Below are a few pictures of a matched pair of beautiful 10mms built using Paraordnance 10mm frame kits and Colt Delta Gold Cup slides.