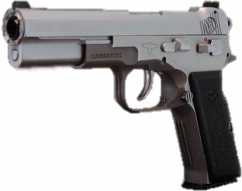 Miami Vice, Sonny Crockett And His Bren Ten
Background Info
The police drama Miami Vice aired in the fall of 1984. The two main characters are Sonny Crockett (Don Johnson) and Ricardo Tubbs (Phillip Michael Thomas) who play two vice detectives in Miami, Florida.

Sonny Crockett carried a number of different guns throughout the five season run of the popular series. In the original two-hour premier he carries a Browning BDA in .45 Auto (this is the European heel mag release version of the Sig-Sauer P220 imported by Browning). After this though, he carries a Bren Ten for the rest of the first two seasons. For the third and fourth seasons Detective Crockett switches to a Smith & Wesson 645 in .45 Auto. Then in the fifth and final season he changes once again, this time to the new Smith & Wesson 4506, also in .45 Auto. In a number of shows throughout the run Sonny is also seen carrying a .45 Detonics Combatmaster in an ankle holster, but I am not sure which episode or season this started.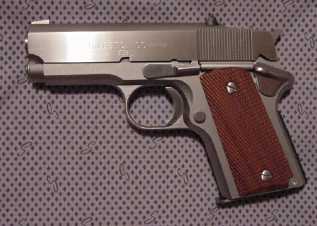 Detonics .45 caliber Combatmaster
It is my belief that the switch from gun to gun was more of a fashion statement than anything else. When Don Johnson's character started carrying the Bren Ten it was a brand new, state of the art pistol. But then Sonny switches to the S&W 645 in 1986 which, coincidentally, is the year that Dornaus & Dixon closed their doors. Then two years later, when Smith & Wesson releases their latest generation semiautos, Detective Crockett upgrades once again to the "newest and latest," this time a S&W 4506. Interestingly enough both the S&W 645 and 4506 are full-sized, 5", stainless steel semiautos. At any distance it would be quite difficult to tell the Bren and the two Smiths appart. In fact my Bren Ten Standard Model fits very well in a Milt Sparks IWB holster that I have for my S&W 1006 which is externally identical to the 4506.
All-Stainless Bren?
There are a number of interesting facts about the Bren Ten used on Miami Vice. First off, the gun used by the character Sonny Crockett appears to be an all-stainless steel gun. None of the production guns made by Dornaus & Dixon were all-stainless. Because of gauling problems between stainless steel slides and frames Dornaus & Dixon opted to go with a stainless frame and a carbon steel slide, and on ALL the full-sized guns these slides are blued, without exception. The Special Forces Light, however, has a slide that is hard chromed rather than blued. This is the finish that is also on the Miami Vice Bren. From what I understand, Sonny Crockett's pistol received this treatment to make it more visible during night filming. (This is the same reason it was decided to repaint his Ferrari Testarossa white which was originally black like the Ferrari Daytona Spyder 365 GTS/4 that was used in the first few seasons.)

Some Bren collectors have followed suit and had the slide on their Bren SM's hard chromed to match the Miami Vice Bren. I think this makes for a very attractive gun, but unless I end up with a second SM, or a spare slide, I think I'll keep mine original. To each his own...
Technical Details
Another aspect often discussed by Bren collectors concerns the actual make-up of the blank-firing prop gun used by Don Johnson. It is said that the actual gun used was in fact a .45 caliber pistol rather than a 10mm Auto. This was for the simple reason that .45 blanks were readily available while blanks for the 10mm were basically non-existant. This would be easy enough as Dornaus & Dixon produced a limited run of 250 Marksman Special Match Brens chambered in .45 Auto. There are a number of episodes, however, where close-ups of Sonny's Bren Ten plainly show the Gunsite Raven and the words "BREN TEN" on the slide. These markings were not on the Markman pistols. The .45 slide that came with the Dual-Master did have the correct markings, but these special guns were also engraved which would have shown. Another possibility is that these guns were Standard Models fitted with a .45 Conversion Kit which came with a slide that included all the same markings as a Standard Model. Of course the final option is that these guns were simply custom made for the show.

While speculation is entertaining by it's very nature, we still want to know the facts, and in this case Bruce Orlowski has been gracious enough to share with us the real story behind the Miami Vice Bren Tens. Bruce writes:
The two guns were ordered specifically for the show by Michael Mann's production company. They did not come off the assembly line, but were built by Tom Dornaus personally. Tom did the initial blank conversion, if you want to call it that, but actually these two guns were built from the ground up specifically for firing blanks. He used major components which were not deemed suitable for production guns, but were perfectly adequate for a blank gun. The two guns were Standard Models with the old style rear sight assembly and no trigger stop screw. All external markings were standard Bren Ten. The only difference being that the guns had recoil springs and barrels designed to fire .45 ACP blanks. The barrel does not carry any caliber designation roll mark however. Because the ejection port on a Bren Ten is so large I don't believe that it had to be enlarged to accommodate the elongated .45 ACP blank cases. (Remember that the blank cases are in the shape of a loaded round WITH bullet seated.) Michael Mann requested specifically that the slides be a light color (hard chrome) for enhanced visibility. The hard chrome work was done by a small firm in the Huntington Beach area at that time. Both guns carry a special serial number. One of the guns is in the possession of a major collector in Pennsylvania and the other is owned by one of the show's producers, I believe. They weren't Marksmans or Standard Models with conversion kits. They were two specially built guns.
Thanks for the great information Bruce!

Best "Bren-Watching" Episodes
While Sonny Crockett carried his Bren Ten through the first two seasons of Miami Vice, there are some episodes that are just better than others for close-up "Bren watching." One important exception however is the original two-hour premier where Don Johnson's character packed a Browning BDA (Sig-Sauer P220) in .45 Auto. Now that the first two seasons are available on DVD it is much easier to find and zoom in on those great scenes. Below is a list of those particular episodes that will give you the best opportunity to check out the Miami Vice Bren Ten.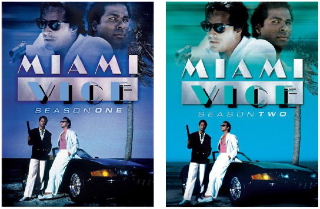 Episode 9 (S1): Glades

Episode 21 (S1): Evan

Episode 23 (S2): The Prodigal Son (2-hr premier)

Episode 36 (S2): One Way Ticket

Miami Vice Music
One of the great things about the Miami Vice television series is the music. Many popular singers and groups of the day had their music on the show which added greatly to the popularity of the series. One artist that did a lot of the music for the show, including the Miami Vice theme music, was Jan Hammer. Jan Hammer's music is very distinctive and to many fans his music IS Miami Vice!

Jan Hammer has recently released a two-CD collection of the music he peformed for the television series. "Miami Vice: The Complete Collection is currently available only on the Jan Hammer website. The two-CD set sells for $19.95, or $29.95 for an autographed set. If you're a serious Miami Vice fan I highly recommend you check out his website and order this CD set!

Miami Vice Music Samples
The success of the Miami Vice television series was due to a combination of great action, cool clothes, hot cars and also fantastic music. Jan Hammer did a large majority of the music for Miami Vice and in may ways the two have almost become synonomous. Here are four 30-second samples from Jan Hammer's Miami Vice CD. Enjoy!





Miami Vice Links
For those interested there are quite a few websites dedicated to the Miami Vice television series. Below are links to a few that I am aware of. If you know of others please let me know so I can add them to the list.

Japanese Articles: Miami Vice Bren Ten Marksman & S&W 645
Austin sent me pics from another Japanese gun magazine. These two articles focus on the Bren Ten Marksman Special Match and the Smith & Wesson 645. Of course you can't read the article (unless you can read Japanese that is), but it's still fun to browse through the pictures. Thanks again Austin!
<!>
Japanese Miami Vice Article
<!>
Miami Vice Marksman, pg. 1
<!>
Miami Vice Marksman, pg. 2
<!>
Miami Vice Marksman, pg. 3
<!>
Miami Vice Marksman, pg. 4
<!>
Miami Vice Marksman, pg. 5
<!>
Miami Vice S&W 645, pg. 1
<!>
Miami Vice S&W 645, pg. 2
<!>
Miami Vice S&W 645, pg. 3
<!>
Miami Vice S&W 645, pg. 4
<!>
Miami Vice S&W 645, pg. 5