PART 1
The Birth Of The 10mm Auto
PART 2
The 10mm Auto In Its Prime
PART 3
The Demise Of The 10mm Auto
PART 4
What's Next For The 10mm Auto?
PART 5
10mm Auto "Offspring" And "Stepchildren"
PART 6
Current Factory Ammo Offerings In 10mm Auto
PART 7
Reloading The 10mm Auto
PART 8
My Own Observations And Perspectives
The Birth Of The 10mm Auto
While we often think of the 10mm Auto as a thoroughly modern cartridge, the idea of a powerful mid-bore is not a new one. In fact you could even go as far back as 1873 when the .38-40 Winchester (.38 WCF) was introduced in the Winchester Model 1873 lever-action rifle. Recent factory loading of this cartridge pushed a 180gn, .40 caliber bullet at about 872fps out of a 6-1/2" barrel.

Fast-forward a little less than 100 years and you will find another mid-bore powerhouse, the .41 Remington Magnum. Similar in theory to the Bren Ten and 10mm Auto of some 20 years later, the S&W Model 57 and the .41 Magnum was to be the ultimate combat/police handgun and cartridge combination. The idea was to fill the gap between the .357 and .44 Magnums. While the .44 Magnum always has been and will probably always be (in its full-power loading) too much for combat/self-defense purposes, the .357 was pretty close to ideal. What the .357 Magnum was lacking during this time wasn't power, but rather correctly engineered bullets to take advantage of the power it already possessed. As for the .41 Remington Magnum, it had two shortcomings that put many people off. First is that it could only be had in the big N-frame Smiths. (Ruger also made a .41 Magnum, but only in its Blackhawk single-action revolvers.) Second, apparently most individuals went for the full-power 210gn JSP hunting round rather than the more sedate 210gn lead SWC intended for police use. The .41 Magnum has become a popular handgun hunting cartridge with some handgun hunters, but it just never made it as the perfect police cartridge it was envisioned to be.

In the early 1970's an individual by the name of Whit Collins started looking at the feasibility of rechambering the 9mm Browning Hi-Power to a more powerful cartridge. Originally he was considering the .38 Super, but Col. Cooper's idea of a 200gn bullet of .400" diameter traveling at 1,000fps changed his thinking. Whit Collins did a lot of work just looking into the feeding geometry to see if a .40 caliber bullet could be made to function. When he was satisfied that it could he began looking for existing rifle cases that had the proper casehead dimensions and could be trimmed down to proper length for the Hi-Power magazine. With his drawings and some "dummy" loads made up he approached Jeff Cooper about his idea. Col. Cooper lent his support to Mr. Collin's idea and with investigative and research help from Guns & Ammo the project moved ahead. Next came assistance from Irv Stone of Bar-Sto and master gunsmith John French and by 1972 a Browning Hi-Power chambered in .40 G&A was being test fired. The loads being fired consisted of a 180gn bullet at 1,050fps out of the 5" barrel. In 1973 Col. Cooper and Mr. Collins started talking about a longer cased .40 caliber round that would be developed with the various .45 Auto platforms in mind. At this point Whit Collins went on to continue working on his .40 G&A and Jeff Cooper began his work on what was being called the .40 Super. A number of years went by until 1978 when Col. Cooper teamed with Thomas Dornaus and Michael Dixon. Via the Bren Ten semiautomatic pistol the .40 Super evolved into what we now call the 10mm Auto and the rest, as they say, is history.

This is from the Dornaus & Dixon 1984 Bren Ten catalog:
The Norma factory loaded 10mm Auto cartridge is a center fire, rimless, brass cased, straight walled, large caliber pistol cartridge. It measures 1.250 inches in overall length with the bullet measuring 10.16 (.40") millimeters in diameter. It uses a special Norma powder designed expressly for optimum muzzle velocity while maintaining safe chamber pressures, and uses a standard .210" diameter large pistol primer. The bullet is a copper alloy full jacket, lead core design, and has a truncated cone shape (Jacketed Truncated Cone or JTC). Bullet weight is 200 granis (13 grams practical). Out of a Norma 5" test barrel (the length of the Bren Ten barrel, full-sized models), muzzle velocity is 1200 feet per second, and produces a moderate average chamber pressure of 37,000 c.u.p. (copper units of pressure). Kinetic energy at the muzzle is 640 foot pounds. Relative Stopping Power on the Hatcher Scale is 72 (30 R.S.P. on the Cooper Short Form). The 10mm Auto moves the striking pendulum farther than the .45 ACP from the same distance, out of the same gun (the Bren Ten shoots both rounds). Because of the unique design of the Bren Ten, the 10mm Auto cartridge has the felt recoil of the .45 ACP 230 grain hardball round out of a Colt Government Model, yet it retains more kinetic energy at 100 yards than the .45 ACP has at the muzzle. The large bullet cross sectional density, along with the velocity and kinetic energy, combine to produce a truly effective cartridge. Ballistically, the closest comparable cartridge to the 10mm Auto is the .41 Magnum. The 10mm Auto cartridge has been designed and developed to be the optimum combat pistol cartridge.
The 10mm Auto, in its original form, launched a 170gn JHP at 1,300fps and a 200gn JTC at 1,200fps. This is serious power, easily generating in excess of 600 ft lbs of energy. With numbers like this it's obvious to see that the 10mm achieved its goal of magnum power in a high-capacity autoloading format. One would think that such raw power would be hard to handle, but in the original full-sized, all-steel Bren Ten it was quite controllable. It may have generated a little more recoil and muzzle flip than a .45, but definately no more than full-power .357 Magnum loads out of a 4" medium-framed revolver. So, what the 10mm Auto delivers is magnum-power, high magazine capacity (compared to the single-stack 1911), and the rapid reloads via the autoloader platform. How could such a cartridge be anything other than an instant success?


The 10mm Auto In Its Prime
The FBI And The 10mm Auto Cartridge
While the 10mm Auto and the Bren Ten caused quite a stir when it was first introduced, it wasn't until a number of years after Dornaus & Dixon filed bankruptcy that the cartridge really exploded into popularity.

The first boost came when Colt chambered the 10mm in their 1911 Government Model. Up to this point the only 10mm gun was the Bren Ten and with the Bren out of the picture the cartridge was just about dead. The Colt Delta Elite saved the 10mm Auto and continues to be one of the most popular guns built for the 10mm.

While Colt's "adoption" of the 10mm was definately significant, what really pushed the cartridge into the spot light was the FBI's selection of the 10mm Auto as its standard service cartridge. Once the FBI declared that the 10mm Auto was "the best law enforcement cartridge available" the 10mm became "THE" hot police cartridge and law enforcement agencies across the country started looking at it for their own needs.

I recently came across the November 1989 issue of "FBI Law Enforcement Bulletin" which discusses the agency's testing process and subsequent decision to select the 10mm Auto as its primary cartridge for its agents. As most people know what the FBI ended up with was what is commonly known as the "FBI Lite." Originally the two cartridges being tested were the 9mm Winchester 147gn JHP and Remington .45 Auto 185gn JHP, both doing about 950fps. The "new" 10mm Auto was added to the testing, but it was felt the recoil would be unmanagable for many agents and so the FBI Firearms Training Unit handloaded their own 10mm ammo using a 180gn JHP loaded to the same 950fps as the other two loads. This load marginally outperformed the .45 load, but still kept the potential for far greater power in its original loading if so desired.

The Demise Of The 10mm Auto
A lot has been made of the 10mm's quick rise in popularity, and then its even faster slip into apparent obsolescence. I have heard numerous versions of how and why this happened, but one of the best explanations of what happened to the 10mm Auto was in the November 1995 issue of Shooting Times. In the article titled "The Rise & Fall Of The 10mm" author Dick Metcalf does a good job (in my opinion) of going over the 10mm Autos ups and downs. The following is an excerpt from this article:
The Fall

The moment the 10mm Auto actually began its decline from popularity and prominence can be clearly marked. It was the exact instant in 1988 that the FBI's Firearms Training Unit (FTU) experts at Quantico, Virginia, determined that the 10mm was the best-performing law-enforcement cartridge of all autoloader rounds then available on the market; far better, in fact, than either the popular 9mm Luger or the traditional .45 ACP. This is not a paradox and is easy to understand in retrospect.

The FBI had begun a systematic analysis of law-enforcement handgun ammunition effectiveness in the aftermath of a Miami shootout in 1986 which left two agents dead. The full-power commercial 10mm Auto cartridge won the FTU's review hands down. But the test crew also concluded that its recoil was excessive in terms of training for average agent/police officer competency of use and qualification. So one of the FTU experts went to a local gunshop, bought a box of Sierra 180-grain JHP 10mm bullets (the only type that happened to be on that dealer's shelf), and worked up a set of reduced-power 10mm handloads that would still edge out the previous second-place cartridge in the FTU's review (the commercial Remington 185-grain JHP+P) when run through the same series of performance/penetration tests, but was moderate in recoil and "trainable" by FBI standards.

The FBI then commissioned Federal Cartridge Corp. to manufacture a 10mm load to these specifications (the Sierra bullet at about 950 fps velocity), reviewed it thoroughly, and then publicized it throughout the national law-enforcement community as the FBI's top choice for law-enforcement use. Other major ammunition manufacturers almost immediately began producing equivalent-performance "10mm FBI" (or 10mm Lite) loads of their own to compete for the forthcoming ammunition contracts, and the entire industry focus on the 10mm Auto cartridge shifted from its high-power, magnum-level capabilities to its reduced-power, law-enforcement applications.

And then came the axe. World-class competitive shooter Tom Campbell, who then worked in the model shop at Smith & Wesson, pointed out to S&W President Steve Melvin that if a .40/10mm-caliber cartridge with a shorter case could be loaded to the exact same performance level as the 10mm FBI, it would work inside smaller pistol formats originally designed for the 9mm Luger cartridge instead of the full-size .45-size guns required by the full-size 10mm Auto load. Melvin asked the head of Winchester/Olin, Jerry Bersett, if his company could build such a load. The answer was "Yes," and in January 1990, Winchester and S&W jointly introduced the new .40 S&W cartridge for the 9mm-sized S&W Model 4006. The .40 S&W is nothing but a 10mm Short powered to the FBI's performance specifications.

From that announcement forward, the 10mm Auto cartridge was on a straight and rapid downhill slope. Since the appearance of the .40 S&W, no major handgun maker has brought forth any new 10mm pistols. Those who were considering making a 10mm canceled their plans. Many of the 10mm pistols and any other handguns already on the market gradually disappeared. But everybody, that means everybody, has jumped on the .40 S&W bandwagon with new guns, new loads, and components of every type. After 1990, the .40 S&W usurped the whole .40/10mm-caliber field entirely and left the 10mm Auto in the dust.

What's Next For The 10mm Auto?
It's hard to say what's next for the 10mm Auto. Glock, Smith & Wesson, EAA and Olympic Arms still make guns for the cartridge, but the 10mm is definately no threat to the 9mm, the .40 S&W, the .45 or even the .357 Sig in terms of sales of guns and ammunition. This being said though, it does appear that there is growing interest in this excellent cartridge and there seems to be an increasing number of loads for it coming from the smaller ammunition makers. While there are those die-hard few who still believe it to the the ultimate combat handgun cartridge, there is also an increasing number of individuals looking at the 10mm as a hunting cartridge. Like the .41 Magnum of decades past, the true versatility of the 10mm Auto is coming to light. When hiking or just woods-walking my gun of choice is my S&W 1006 loaded with Hornady 180gn XTP's. With nine rounds in the gun and two more mags on my hip it makes (in my humble opinion) a great tool for defense against both two-legged and four-legged predators. Likewise I would think that either one of the S&W autoloaders, a Colt Delta or a Glock 20 would make the ultimate sidearm for the rural peace officer for the exact same reasons.

As for future offerings I would love to see HK bring the 10mm to their USP line of pistols. If they made a USP Compact and a Tactical in this caliber I would buy one of each right now! Another great gun I would like to see in 10mm Auto is the Sig-Sauer P220. Now that they're making this gun with the machined stainless steel slide I would think it a relatively easy thing to chamber it in this caliber. A Beretta Cougar would make an interesting 10mm, and of course Colt would need to bring back their Delta Elite as well as Smith & Wesson and all their 10mm Auto semiautos.

On a final not I just wanted to say that it's always interesting to chat with someone after they've had their first experience with a 10mm. More often than not they tend to become converts on the spot. As for those that don't like the 10mm Auto after shooting it, well let's just say that they probably wouldn't like anything beyond a mild .38 or a 9mm anyway. The truth is though, that the 10mm Auto is probably the most versatile semiauto cartridge currently available. Few cartridges can make claim to such a wide range of bullet weights and power levels. Because of this it is my opinion that in time the 10mm Auto will only become more popular, and this means more guns and more loadings for this great cartridge. I can't wait!

10mm Auto "Offspring" And "Stepchildren"
The 10mm Auto legacy lives on. Though the original cartridge itself has dropped in popularity since its peak in the early '90s, it has generated a number of other cartridges with a few being very, very well received. Most of these are based on the 10mm case itself with a couple actually based on the .45 Auto case, but loaded with .40 caliber bullets and driven to 10mm Auto (or higher) velocities. There is even one that takes the 10mm case and necks it down to .22 caliber! While there are probably numerous "home-brewed" wildcats, here are the most common, and most "domesticated."
.40 SMITH & WESSON
The .40 Smith & Wesson is easily the most popular of the 10mm Auto offspring. In fact it has become so popular that it has pushed its predecessor out of the limelight and into relative obscurity.

The .40 S&W was a collaborative effort between Smith & Wesson and Winchester. The actual concept for the cartridge had been around a while, but when the FBI decided to download the 10mm Auto the time was right. Basically the idea behind the .40 S&W was to duplicate the FBI 10mm "Lite" loading, but at the same time shorten the case enough so that the new round would fit in a 9mm Parabellum platform giving the the handgun a greater cartridge capacity. Winchester loaded a 180gn JHP bullet at 980fps while Smith & Wesson modified their 59xx series for the larger cartridge and introduced the S&W 40xx series pistols. The .40 S&W was released to the public in January of 1990 and it became an instant success and soon numerous other firearm manufacturers were racing to bring out their own .40 S&W guns.

The .40 S&W cartridge has become incredibly popular. Now the FBI, which made the 10mm Auto the preeminent law enforcement cartridge only a few short years before, has switched to Glocks chambered for the .40 S&W.
.41 ACTION EXPRESS
The .41 Action Express was designed by Evan Whildin (vice president of Action Arms) in 1986. One of the most noteworthy elements of the .41 AE is that it uses a rebated rim allowing it to be used in 9mm Parabellum guns with very little modification. In fact, often all that was needed was a new barrel and heavier recoil spring. Originally the cartridge was designed to fire a 170gn, .41 caliber bullet at 1,130fps, though subsequent factory ammo produced by Samson includes a 200gn bullet at 1,000fps and a 180gn loading, also at 1,000fps. Guns chambered for the .41 AE include the Uzi, Jerico and a few other imports. There were also conversion kits for popular 9mm's like the Browning Hi-Power made, but I don't believe too many of these ever made it to market.

The .41 AE and the .40 S&W are virtual ballistic twins and one would think that the ability to use the round by simply swapping barrels and springs would make the .41 AE the more popular of the two, but that's not what happened. Whereas the .40 S&W has taken over the U.S. police and civilian markets by storm, the .41 Action Express has nearly dissappeared. It's an interesting concept with a lot of potential and it's too bad it didn't survive.
10MM MAGNUM
The 10mm Magnum was a proprietary cartridge of AMT/iAi and was chambered in that company's Automag IV (very similar to the .45 Winchester Magnum version). It cartridge is basically identical in dimensions to a standard 10mm Auto, but the case is lengthened from .99 to 1.25" giving it greater case capacity. Out of the Automag's 8.75" barrel a 190gn bullet would post more than 1,700fps and over 1,200 foot pounds of energy. This makes the 10mm Magnum a great handgun hunting and possibly silhouette shooting gun, but at the same time makes it too much for any kind of defensive purposes due to excessive penetration.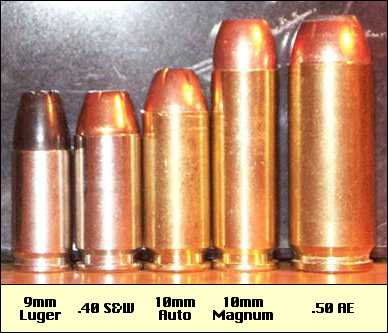 Thanks to Mike Murphy for sending in this pic.
Though the 10mm Magnum would make an excellent deer and hog cartridge, the obvious problem is a lack of firearms chambered for it. Probably the easiest gun to convert would be a 10mm Auto Thompson T/C Contender. The problem though is finding a 10mm barrel as these are no longer made and are becoming increasingly difficult to find. Another option, and a better idea in my opinion, is to have the chambers on a S&W 610 revolver reamed out to accept the longer 10mm Magnum cartridge. The N-frame cylinder is long enough and since it uses moon clips to properly headspace the cartridge you could still fire both standard 10mm Auto and .40 S&W cartridges out of it. The current 610 offered by Smith & Wesson has only a 4" barrel, but the older 6.5" variety are still commonly available.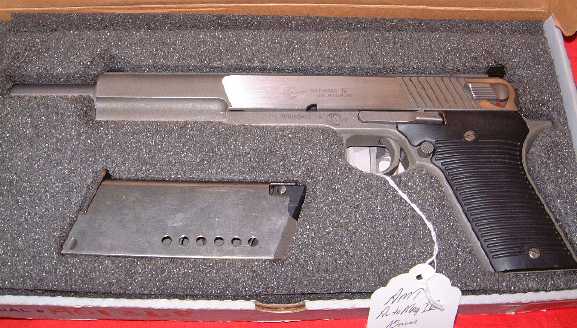 Click here to see an iAi Automag IV 10mm Magnum advertisement.
.357 SIG
Whereas the .40 S&W is a direct descendant of the 10mm Auto, the .357 Sig is more of a descendant of the .40 S&W than of the 10mm. Created jointly in 1994 by SIG-Sauer and Federal Ammunition, the .357 Sig is basically a .40 S&W case necked down to accept a 9mm bullet. The name is somewhat misleading in that a true .357 Sig bullet is .355" in diameter, like a .380 Auto or 9mm Parabellum, as opposed to a true .357" caliber bullet. The ".357" name is used more to promote the power of the cartridge which is balistically close, though not quite, to the .357 Magnum. To make matters more confusing though, while .355" bullets are the correct diameter for the .357 Sig, true 9mm Parabellum bullets cannot be used effectively as they are not designed to perform at the faster velocities of the .357 Sig and would expand too quickly, or even possibly seperate and come apart after impact. Because of this factory loadings use special bullets that are designed to expand more slowly and at a higher velocity threshold.

Many ammunition makers claim velocities in the 1,425fps range for their 125gn JHP .357 Sig ammo, but more accurate "real gun" velocities probably hover in the 1,350-1,375fps range. This is still quite respectable for a 9mm bullet, but some companies, such as Cor-Bon and Triton, have manufactured .40 S&W ammo using 135gn JHP's at approximately 1,350fps. The question then becomes, "Why even have the .357 Sig?" Those who support the cartridge often like to point out that the .357 Sig is a bottleneck design and that this promotes better feed reliability in a semiauto. While this is basically true, many box-stock autos (such as Glock, Sig, Walther, etc.) do such a good job with standard straight-walled cartridges these days that this is in essence a non-issue. Personally I believe that this is a personal preference issue. If we were to start eliminating cartridges because they are very similar in performance to an existing cartridge, then we could probably get rid of a whole lot of different rounds out there. But there is no need and no reason to do this and so, just like many other cartridges, the .357 Sig is a good round and for many shooters it "fits the bill."
9x25mm DILLON
Randy Shelly was the person responsible for the initial design of the cartridge that was then further developed by a team at Dillion Precision into what is now the 9x25mm Dillon. Basically this is a 10mm Auto cartridge necked down to accept 9mm (.355") bullets. The round has never had a big following, but it did get a boost when competitive shooter Rob Latham started experimenting with it in 1991. Lyman lists reloading information for the 9x25mm Dillon which can launch a 115gn 9mm bullet at approximately 1,575fps, or a 124gn bullet at around 1,530fps.
.224 BOZ
The .224 BOZ was developed by Civil Defense Supply, located in the United Kingdom, and was begun as a Special Forces ammunition project for police and military use. In short, the concept was to design a new pistol cartridge that would deliver significantly more power than the current 9mm Parabellum as used in both handguns and submachine guns. The two main requirements were that the cartridge be adaptable to existing firearms and that it be able to penetrate CRISAT armor (1.5mm titanium plate reinforced with 20 layers of Kevlar) and generate a PIH level of 0.6 or greater.

It was decided that the bullet chosen be one of proven design and so the 5.56mm round as used by NATO forces was selected. Not only was there a significant amount of data already collected on this bullet design, but it was also available in numerous configurations such as armor piercing, tracer, ball, and frangible. In looking for a starting point for the cartridge case both the 9mm Parabellum and the .40 S&W were looked at and then quickly dismissed as possible candidates because both lacked the case capacity to generate the required energy and velocity. The 10mm Auto was then chosen both for its power potential and existing firearm platforms readily convertible to the new cartridge.

The original test-bed for the .224 BOZ was a Colt Delta Elite. Using lightweight 50gn 5.56mm bullets velocities ranging from 1,750fps to 2,200fps were obtained. Eventually the Glock 20 was chosen as the foundation for the .224 BOZ PPW (Personal Protection Weapon) due to its "positive lock between barrel and frame." (It must be noted though that in this caliber a 5.5" barrel is considered "compact" and a 6.5" barrel is "standard.") For the carbine/submachine gun platform the HK MP5 was selected Not only is the MP5 series of submachine guns one of the most popular around the world, but it is also available in 10mm (though no longer in production). Royal Ordnance and Heckler & Koch worked together to develop the .224 BOZ PDW (Personal Defense Weapon) which is basically an HK MP5/10 chambered for the .224 BOZ round. Reportedly there is also a .224 BOZ PDW based on the AR15 platform, but apparently this is still under development.
.400 COR-BON
From the Cor-Bon website:
The .400 Cor-Bon has been designed as a modern high performance self-defense handgun round. The distinctive bottle-neck cartridge provides additional case capacity, improved feeding, and with headspacing off the shoulder, a tighter bullet crimp can be used to get more efficient powder burning.

Performance of this cartridge is impressive. A 135 grain Sierra JHP has a muzzle velocity of near 1,450fps (test barrel & full-sized Govt Models) and can provide an astonishing 600ft/lbs of energy. A 150gn or 155gn hollowpoint moves out at near 1,330fps. The performance level of this new cartridge rivals the honored .357 Magnum or the hottest loads in 10mm.

Cartridge designer Peter Pi recognized the universal appeal of .45 ACP firearms, and also saw the expanded use of 10mm and .40 caliber weapons in law enforcement. It then made sense to combine the best of both worlds into one new cartridge - thus the concept for the .400 Cor-Bon.

By taking .45 ACP brass and necking it down to accept a .40 caliber (10mm) bullet, you gain a velocity and energy advantage over either cartridge alone. These advantages are most noticeable in the lighter weight bullets, 135 to 165gns.

The .400 Cor-Bon seems to be the right idea at the right time. There are probably more custom gunsmiths working on .45's than any other caliber. The .400 Cor-Bon is not a high pressure cartridge, and thus does not need special frame modifications. Most .45 ACP pistols can be easily converted to the .400 Cor-Bon with a simple drop-in barrel change. You can utilize the same magazines, springs and guide rods and because of the modern bottleneck design, fully supported barrels can be used.

The .400 Cor-Bon adds performance to a .45 ACP with a .40 caliber bullet. As Peter Pi explains, "Velocity is the key to making hollowpoint bullets work. The added velocity assures that the hollowpoint will open up even if plugged with material. This reduces the risk of overpenetration and allows the action of the hollowpoint bullet to dump the available energy into the target."
While the .400 Cor-Bon, reguardless of its stats, is not a 10mm Auto, it is a good idea and I'm surprised that it hasn't done better. On the plus side it gives you near 10mm Auto performance, a bottleneck case for improved feeding, low pressure, and with the multitude of .45 Auto pistols out there a large potential market for conversions. Really, about the only two drawbacks are that it is pretty much limited to bullets no heavier than 165gns and, because of the fatter .45 case, you lose a round or two in the magazine (depending on whether it's a single or double-stack gun).

In the August 1996 issue of Handguns is a good article by Ed Sanow. Mr. Sanow covers both the creation and the ballistics of the .400 Cor-Bon. I've included the article below.
.40 SUPER
The current .40 Super (not to be mistaken with Col. Cooper's original 10mm cartridge concept) is a product of Triton Ammunition Corporation. It is very similar in appearance and design to the .400 Cor-Bon, but boasts significantly higher velocities. The following excerpt is from the Triton website:
With the introduction of the .40 Super, Triton has brought a new level of power and versatility to the handgun market. The .40 Super will drive a 135gn bullet to an unprecedented 1,800fps from a five inch barrel, while generating less chamber pressure than the Winchester 9x23mm. With a 200gn bullet, the .40 Super delivers 500ft/lbs of energy at 100 yards. That's more than the .45 ACP does at the muzzle.

From a reloader's standpoint, there is tremendous versatility in the .40 Super. Bullet weights currently on the market range from 135 to 200gns. Loads can be developed with a dozen powders. Small pistol magnum or small rifle primers can be utilized.

The Triton factory loadings for the .40 Super are designed to meet the needs of hunters, competitive shooters and those concerned with personal defense.

The .40 Super Quik-Shok 135gn TT (Team Triton) is designed as a reduced recoil load. It can be used in competitive sports and still meet the requirements demanded of personal defense ammunition. The Quik-Shok 155gn delivers the full-house performance you'd expect from the .40 Super. The Hi-Vel loads range from the 135gn screamer at 1,800fps to the long range, flat shooting 200gn at 1,300fps.

Guns factory chambered for the .40 Super are currently available. Many semiautos already on the market can also accomodate the .40 Super. Semiautos already chambered for the .45 ACP, .45 Super or .450 SMC cartridge are the easiest to convert. This is accomplished by simply swapping out the .45 caliber barrel with the .40 Super barrel and upgrading the factory recoil spring with a heavier one. Existing .45 ACP magazines can be utilized. Handguns that have been converted to .40 Super include the following: Glock 21, Sig P220 & 220ST, HK USP & Tactical, S&W 4506, Commander and Government-sized 1911's.

With the .40 Super, you can participate in competitive sports like IDPA, hunt, and carry for personal defense, all with the same handgun. No other cartridge gives you this much versatility. Welcome to the 21st Century.
As mentioned above, the .40 Super is very similar in design to the .400 Cor-Bon. The main difference being that the .40 Super gives far greater velocity and energy (1,450fps with a 135gn bullet in the Cor-Bon load vs. 1,800fps for the Triton cartridge with the same bullet weight). I definately believe the .40 Super would make the better hunting cartridge of the two, but for me I think I'd stick with the .400 Cor-Bon for concealed carry purposes. There gets to be a point where more power becomes too much power (such as when the .44 Magnum is used in the role of personal protection). Add to this that this extra power comes at the cost of added recoil then I think it better, in my opinion, to look elsewhere. Triton does make a reduced recoil 135gn load, but I would still go with the Cor-Bon offering, probably with either a 155gn or 165gn bullet. The one thing that the .40 Super does do that I like is that you can use bullet weights all the way up to 200gns. All in all though, the .40 Super is one serious handgun cartridge!
10mm EXPRESS
I hesitated to even list the 10mm Express, but felt some information about it might clarify any possible confusion about the cartridge. The "10mm Express," produced by Texas Ammunition Company (TAC), is not a new cartridge. It is a standard 10mm Auto cartridge, dimensionally speaking, and TAC even uses Starline 10mm Auto brass. The "Express" term is used to denote that these loadings are designed to meet or exceed the velocity/energy levels of the original Norma loads. If you remember these included a 170gn JHP at 1,300fps and 636ftlbs and a 200gn JTC at 1,200fps for 635ftlbs. Current TAC loads include a 135gn JHP at 1,450fps and 630ftlbs, a 165gn JHP at 1,350fps and 668ftlbs and a 200gn JHP at 1,250fps for a whopping 694ftlbs! These are definately "healthy" loads and, as TAC recommends, should only be used in firearms designed to handle the original level 10mm loads.

It is interesting to note that since the inception of TAC's "Express" 10mm loads they have pretty much become the standard by which today's 10mm loads are compared to. Many individuals who don't have a lot of experience with or knowledge about the 10mm Auto often state that one of the reasons the cartridge has sagged in popularity over the years is because no one makes full-power ammo for it anymore and therefore you might as well stick with a .40 S&W. While there have been a number of loads available that exceeded this "FBI-lite" ammo in terms of power (such as the Winchester Silvertip), very few manufacturers have attempted to produce ammo that brings the 10mm's power back to its original levels. The Texas Ammunition Company "10mm Express" does exactly that!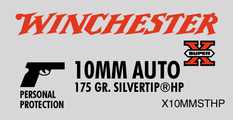 Current Factory Ammo Offerings In 10mm Auto
Just as most firearm manufacturers have either cut back or halted production of guns chambered in 10mm, most major ammunition companies have also dramatically reduced their number of loadings in this caliber. Even those companies that have kept the 10mm Auto in their ammunition line-up don't always load their 10mm ammo to "full-power." Winchester's 175gn Silvertip and Hornady's 155gn, 180gn and 200gn XTP hollowpoints retain respectable power, but still don't match original Norma velocity and energy levels. Thankfully smaller companies like ProLoad, Georgia Arms and others have stepped in to offer 10mm ammunition that comes quite close to the old Norma loads in terms of power. These companies often use premium, name-brand bullets and produce ammunition that lives up to the 10mm's true potential.

As of this writing though there are two small ammunition companies that are producing "true potential" 10mm loadings. For those who are looking for the ultimate in self-defense ammo, or are wanting to take their 10mm out to the hunting fields, both Texas Ammo and Double Tap produce some pretty eye-popping loads. Texas Ammunition Company (TAC) offers four loads including a 135gn JHP, 165gn JHP, 200gn JHP and 200gn FMJ. Double Tap also loads these bullet weights, as well as a 180gn JHP (a 220gn hardcast load will also be included in the near future). Both companies use premium bullets that take full advantage of the 10mm's velocity potential. In fact, these loads hover in the 650 to 750 ftlbs range in terms of muzzle energy. While this may not seem all that impressive if you shoot long barreled magnum revolvers in the bigger calibers, but remember this energy level is coming out of a standard-sized (4.6-5" barrel) semiauto pistol!

Below is a table of current manufacturers of 10mm Auto ammo and includes their different loadings and, if available, velocity and energy data. Please keep in mind that this data is provided by the companies themselves and as everyone knows ammo rarely lives up to their manufacturers specifications.
| | | | | | | | | |
| --- | --- | --- | --- | --- | --- | --- | --- | --- |
| Cor-Bon | 135gn JHP | 4.6" | 1,400 fps | n/a | n/a | 588 ftlbs | n/a | n/a |
| Cor-Bon | 150gn JHP | 4.6" | 1,325 fps | n/a | n/a | 585 ftlbs | n/a | n/a |
| Cor-Bon | 165gn JHP | 4.6" | 1,250 fps | n/a | n/a | 573 ftlbs | n/a | n/a |
| Double Tap | 135gn JHP | 4.6" | 1,600 fps | 1,331 fps | 1,118 fps | 768 ftlbs | 530 ftlbs | 376 ftlbs |
| Double Tap | 165gn GSHP | 4.6" | 1,425 fps | 1,273 fps | 1,143 fps | 745 ftlbs | 594 ftlbs | 479 ftlbs |
| Double Tap | 180gn GSHP | 4.6" | 1,330 fps | 1,205 fps | 1,102 fps | 707 ftlbs | 580 ftlbs | 489 ftlbs |
| Double Tap | 200gn XTP/HP | 4.6" | 1,250 fps | 1,151 fps | 1,070 fps | 694 ftlbs | 588 ftlbs | 508 ftlbs |
| Federal | 180gn "Hydra-Shok" JHP | 5" | 1,030 fps | 970 fps | 920 fps | 425 ftlbs | 375 ftlbs | 375 ftlbs |
| Federal | 180gn "Hi-Shok" JHP | 5" | 1,030 fps | 970 fps | 920 fps | 425 ftlbs | 375 ftlbs | 375 ftlbs |
| Georgia Arms | Speer 155gn "Gold Dot" | n/a | 1,375 fps | n/a | n/a | n/a | n/a | n/a |
| Georgia Arms | Speer 180gn "Gold Dot" | n/a | 1,150 fps | n/a | n/a | n/a | n/a | n/a |
| Georgia Arms | 180gn LFP | n/a | 950 fps | n/a | n/a | n/a | n/a | n/a |
| Georgia Arms | 180gn FMJ | n/a | 1,100 fps | n/a | n/a | n/a | n/a | n/a |
| Glaser | 115gn "Safety Slug" | 5" | 1,650 fps | n/a | n/a | 695 ftlbs | n/a | n/a |
| Hornady | 155gn JHP/XTP | n/a | n/a | n/a | n/a | n/a | n/a | n/a |
| Hornady | 180gn JHP/XTP | 5" | 1,180 fps | 1,077 fps | 1,004 fps | 556 ftlbs | 464 ftlbs | 403 ftlbs |
| Hornady | 200gn JHP/XTP | 5" | 1,050 fps | 994 fps | 948 fps | 490 ftlbs | 439 ftlbs | 399 ftlbs |
| PMC | 170gn JHP | n/a | 1,200 fps | 1,052 fps | 958 fps | 543 ftlbs | n/a | n/a |
| PMC | 180gn "Starfire" HP | n/a | 950 fps | 903 fps | 862 fps | 361 ftlbs | n/a | n/a |
| PMC | 200gn TC-FMJ | n/a | 1,050 fps | 972 fps | 912 fps | 490 ftlbs | n/a | n/a |
| ProLoad | Nosler 135gn JHP | 5" | 1,440 fps | n/a | n/a | 627 ftlbs | n/a | n/a |
| ProLoad | Speer 155gn "Gold Dot" | 5" | 1,350 fps | n/a | n/a | 627 ftlbs | n/a | n/a |
| ProLoad | Speer 180gn "Gold Dot" | 5" | 1,200 fps | n/a | n/a | 575 ftlbs | n/a | n/a |
| ProLoad | 180gn FMJ-FP | 5" | 1,200 fps | n/a | n/a | 575 ftlbs | n/a | n/a |
| Remington (UMC) | 180gn MC | n/a | 1,150 fps | 1,063 fps | 998 fps | 529 ftlbs | 452 ftlbs | 398 ftlbs |
| Texas Ammunition Company | Nosler 135gn JHP | n/a | 1,450 fps | n/a | n/a | 630 ftlbs | n/a | n/a |
| Texas Ammunition Company | 165gn JHP | n/a | 1,350 fps | n/a | n/a | 668 ftlbs | n/a | n/a |
| Texas Ammunition Company | 200gn XTP/HP | n/a | 1,250 fps | n/a | n/a | 694 ftlbs | n/a | n/a |
| Triton | 155gn "Quickshot" JHP | 5" | 1,400 fps | 1,200 fps | 1,073 fps | 674 ftlbs | 496 ftlbs | 396 ftlbs |
| Winchester | 175gn "Silvertip" JHP | 5.5" | 1,290 fps | 1,141 fps | 1,037 fps | 649 ftlbs | 506 ftlbs | 418 ftlbs |

Picture or original RCBS Bren Ten reloading dies courtesy of Jim Fifield.
Reloading The 10mm Auto
Various Power Levels
Many people ask, "What does the 10mm do that can't already be done by any of the more common/popular calibers?" Well in my opinion what makes the 10mm Auto so special is its versatility. While it can certainly be loaded to "magnum" level performance (in the 750+ ftlbs), it can also be loaded down to match the ballistics of other popular cartridges such as the .40 S&W and .45 Auto. Add to this the fact that all this performance can be had in a standard format autoloading pistol and I'd say you've got a winner with the 10mm!

The best way to take advantage of this versatility is through handloading. The first step is to first decide what kind of load you are looking for. Normally I begin by setting a muzzle energy target. Two forumulas useful for calculating velocity and energy figures are as follows:

I have also designated four different muzzle energy levels for the 10mm. These are FBI Lite, Medium Load, Full Power and Nuclear. These categories are totally subjective, but hopefully it will give you a better idea of the different power levels available in the 10mm Auto.
| | | | | | | | | |
| --- | --- | --- | --- | --- | --- | --- | --- | --- |
| | | | | | | | | |
| 135gns | 1,155 fps | 1,225 fps | 1,292 fps | 1,355 fps | 1,415 fps | 1,473 fps | 1,528 fps | 1,582 fps |
| 150gns | 1,096 fps | 1,162 fps | 1,225 fps | 1,285 fps | 1,342 fps | 1,397 fps | 1,450 fps | 1,501 fps |
| 155gns | 1,078 fps | 1,144 fps | 1,205 fps | 1,264 fps | 1,320 fps | 1,374 fps | 1,426 fps | 1,476 fps |
| 165gns | 1,045 fps | 1,108 fps | 1,168 fps | 1,225 fps | 1,275 fps | 1,330 fps | 1,382 fps | 1,431 fps |
| 170gns | 1,029 fps | 1,092 fps | 1,151 fps | 1,207 fps | 1,261 fps | 1,312 fps | 1,362 fps | 1,410 fps |
| 175gns | 1,015 fps | 1,076 fps | 1,134 fps | 1,190 fps | 1,243 fps | 1,293 fps | 1,342 fps | 1,389 fps |
| 180gns | 1,000 fps | 1,061 fps | 1,119 fps | 1,173 fps | 1,225 fps | 1,275 fps | 1,323 fps | 1,370 fps |
| 190gns | 974 fps | 1,033 fps | 1,089 fps | 1,142 fps | 1,192 fps | 1,241 fps | 1,288 fps | 1,333 fps |
| 200gns | 949 fps | 1,007 fps | 1,061 fps | 1,113 fps | 1,160 fps | 1,210 fps | 1,256 fps | 1,300 fps |
| 220gns | 905 fps | 960 fps | 1,012 fps | 1,061 fps | 1,108 fps | 1,154 fps | 1,197 fps | 1,239 fps |
Personally I tend to do most of my shooting with the FBI Lite and Medium Load levels. While it's fun to pop off a few full power loads down range, I don't see the need to beat up my guns just to punch holes through paper. As far as CCW purposes I like the mid-powered loads because they allow for quicker follow up shots while still providing as good or better power than most +P .45 Auto loads. When it comes to hunting purposes I don't think you can beat the Double Tap or T.A.C. loads. I can load my own handloads pretty warm, but I can't get near Double Tap's velocities without showing signs of excessive pressure.

My Own Observations And Perspectives
Advocate For An Underdog
While I have always been a fan of the 10mm Auto, I didn't turn into a true fanatic of the round until most in the shooting community had put it up on that dusty shelf with the label, "Dead or Dying." I am, and will always be, a supporter of the underdog (that's why I like the Tampa Bay Buccaneers!) and truth be told if the 10mm had become as popular as it looked like it was going to be my enthusiasm for the cartridge would most likely not be what it is today. What can I say...

While I am probably "preaching to the choir" here, I personally feel that the 10mm Auto is one of the most underappreciated of the modern cartridges. There are many good cartridges out there, but they tend to be good in very limited circumstances. I think the .40 S&W and the .357 Sig (both 10mm offshoots) are great defensive rounds, but I wouldn't use them for much else. The 10mm, on the other hand, is incredibly versitile. In the arena of self defense the 10mm Auto beats the .357 Magnum (the premier defensive cartridge) in bullet diameter, bullet weight, velocity and energy, plus it's designed for an autoloader. The 10mm can also fill the role of hunting cartridge (I carry a S&W 610 as a back-up when hunting), though the handgun hunter must be sure to match the round to the game being pursued (I love the 10mm, but I'm not going after Brown Bear with one!). Or the 10mm can be pressed into double duty as a back-country gun where one may be forced to defend himself (or herself as the case may be) against either four or two-legged predators. As I've stated before, if I were in law enforcement and located in a rural area I would think the 10mm Auto loaded with 180gn JHP's, say in say a Glock 20 or a S&W 1006, would be the perfect cartridge. Simply put, the 10mm Auto can do more, and in each role it has the ability to do better than most others!
Adventures In Handloading
In my handloading I keep to the manual for the most part in that I rarely exceed what the major ammunition companies (Hornady, Nosler, Sierra, Speer, Hodgdon, etc.) list in their books. There are others, though, that really crank up the 10mm Auto and I say more power to them as long as they truly believe it can be done safely. For me I like a 135gn bullet at about 1,450fps, a 155gn bullet at 1,350fps, a 180gn bullet at 1,200fps and a 200gn bullet at 1,050fps. These are the performance parameters that I am comfortable with and it also keeps the wear and tear on my guns in line with what the manufacturers built them to handle.

Last summer (2001) I decided to do a little experiment. I was curious as to how much a longer barrel would increase the 10mm's velocity. At this point in time I had a few 10mm's with 5" barrels, one with a 6.5" barrel, a 10" barrel and a carbine with a 16.25" barrel. This, I thought, would make for a great comparison.

I didn't want to go too overboard and so I stuck with just four loads that I had handloaded myself. Three of these are full-power loads in light, medium and heavy bullet weights. The other load is a cast lead "plinking" load and while it's a bit warmer than the neutered F.B.I. load it is by no means a hot or full-powered load. The results are as follows:
10mm Auto Velocity Comparison Chart #1
Bren Ten SFL

S&W 1086

S&W 1076

Glock 20

Bren Ten SM

Bren Ten MP

S&W 1006

<!>
<!>
4"
<!>
4.25"
<!>
4.25"
<!>
4.6"
<!>
5"
<!>
5"
<!>
5"
<!>
Nosler 135gn JHP
(handload)
<!>
n/a
<!>
n/a
<!>
"Safe
Queen"
<!>
n/a
<!>
1,451fps
<!>
n/a
<!>
1,449fps
<!>
Hornady 155gn XTP/HP
(handload)
<!>
n/a
<!>
n/a
<!>
"Safe
Queen"
<!>
n/a
<!>
1,266fps
<!>
n/a
<!>
1,279fps
<!>
Lyman 180gn LTC
(handload)
<!>
n/a
<!>
n/a
<!>
"Safe
Queen"
<!>
n/a
<!>
1,021fps
<!>
n/a
<!>
1,014fps
<!>
Hornady 180gn XTP/HP
(handload)
<!>
n/a
<!>
n/a
<!>
"Safe
Queen"
<!>
n/a
<!>
1,167fps
<!>
n/a
<!>
1,183fps
<!>
WCB 200gn PTC
(handload)
<!>
n/a
<!>
n/a
<!>
"Safe
Queen"
<!>
n/a
<!>
n/a
<!>
n/a
<!>
n/a
10mm Auto Velocity Comparison Chart #2
Colt Delta GC

Para P16 Conv.

>Ruger Buckeye

S&W 610 CH

iAi Javelina

T/C Contender

Oly CAR/97

<!>
<!>
5"
<!>
5"
<!>
6.5"
<!>
6.5"
<!>
7"
<!>
10"
<!>
16"
<!>
Nosler 135gn JHP
(handload)
<!>
1,489fps
<!>
n/a
<!>
n/a
<!>
1,570fps
<!>
n/a
<!>
1,733fps
<!>
1,861fps
<!>
Hornady 155gn XTP/HP
(handload)
<!>
1,346fps
<!>
n/a
<!>
n/a
<!>
1,369fps
<!>
n/a
<!>
1,448fps
<!>
1,594fps
<!>
Lyman 180gn LTC
(handload)
<!>
1,038fps
<!>
n/a
<!>
n/a
<!>
1,067fps
<!>
n/a
<!>
1,143fps
<!>
1,203fps
<!>
Hornady 180gn XTP/HP
(handload)
<!>
1,235fps
<!>
n/a
<!>
n/a
<!>
1,249fps
<!>
n/a
<!>
1,298fps
<!>
1,437fps
<!>
WCB 200gn PTC
(handload)
<!>
n/a
<!>
n/a
<!>
n/a
<!>
n/a
<!>
n/a
<!>
n/a
<!>
n/a